I'm still a little shocked that the St. Louis Zoo shut down its beloved Children's Zoo in 2020. The space is now home to more than a dozen animatronic dinosaurs.
DinoRoarus is a "temporary" exhibit, meaning that it will occupy the old Children's Zoo area for a few years (most likely three) while they work on brilliant new plan. The future exhibit promises to be another kid-friendly space that will connect the dots between families and animals.
I took a peak at the new/old space on media preview day — here's what I learned.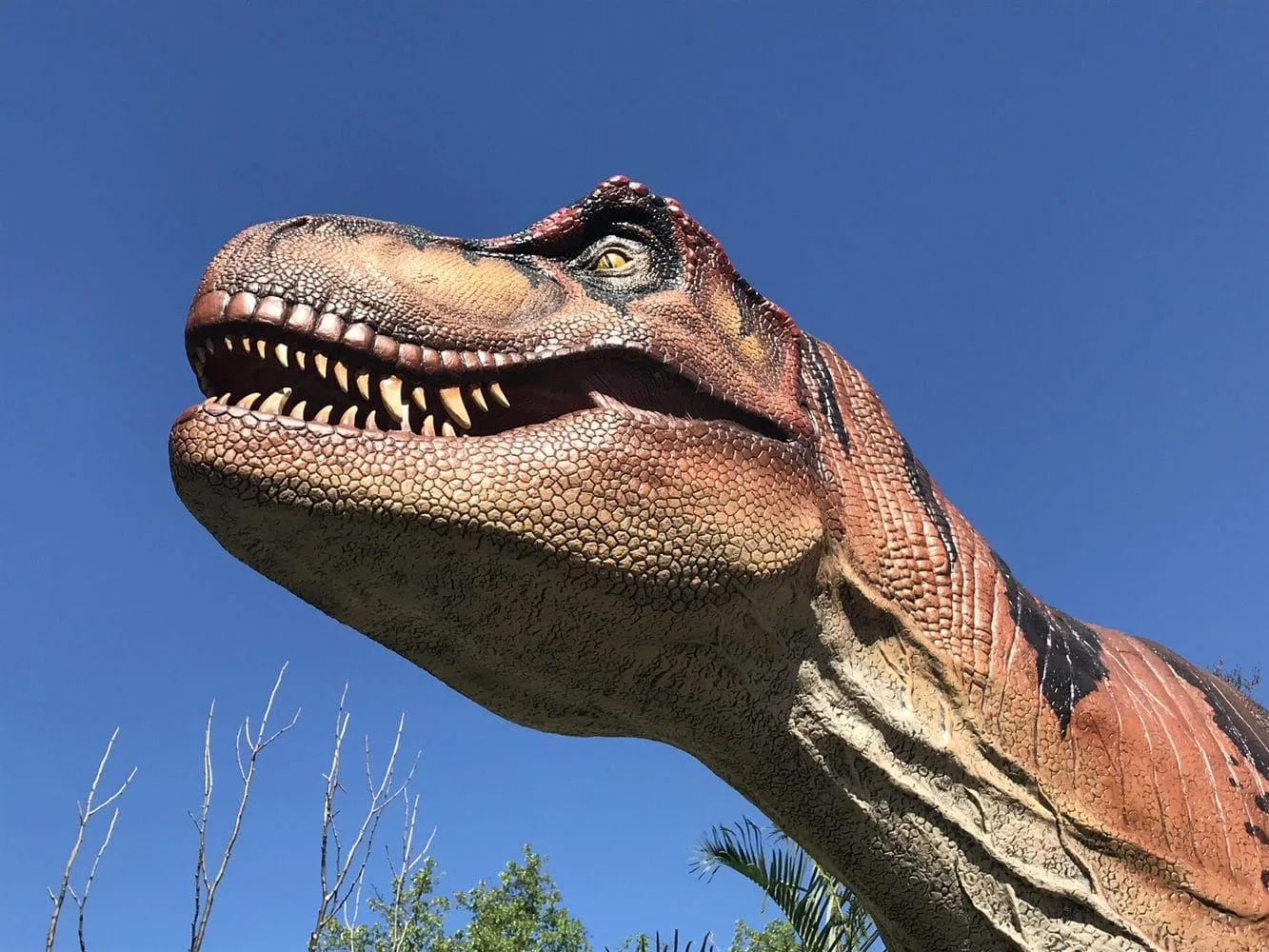 Emerson Dinoroarus
The Dinosaurs opened on April 17, and will run through October 31, 2021.  The zoo plans on closes the exhibit over the winter when visitor numbers are down. The exhibit is a space holder while the zoo plans a new family exhibit to replace the Children's Zoo.
It's not Free
Just like the Children's Zoo, you'll need a paid ticket to see the dinosaurs. Tickets are $5.95 each for everyone over Two. Zoo members get in free as part of their perks. It's also included with the Adventure Pass.
Tickets are Timed to keep visitors well spaced.
Unlike the Children's Zoo, Dinoroarus is NOT free during the first hour the zoo is open. In fact, there is no longer a "free" hour for any attraction.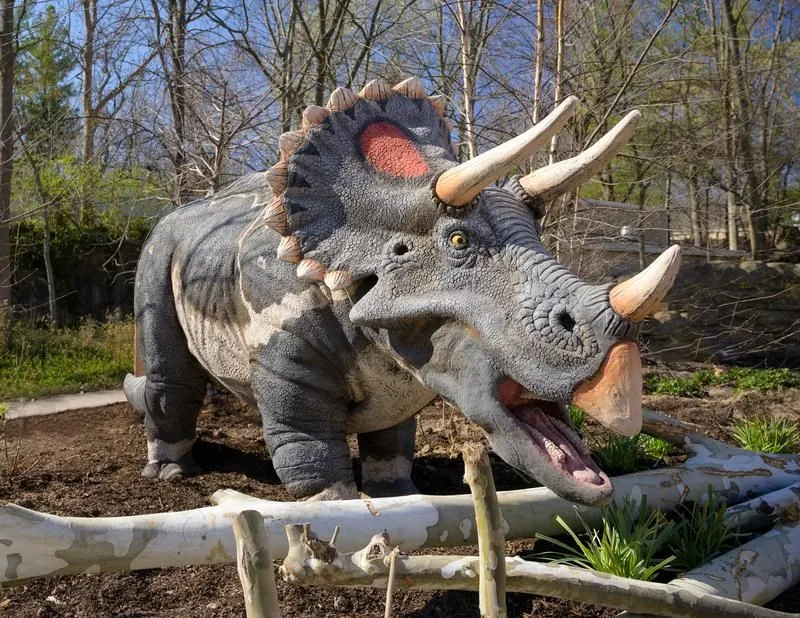 What Can we See at Dinoroarus?
The first thing a frequent visitor will notice is that the old Children's Zoo space hasn't been rearranged TOO much. The dinos have been worked into existing landscape and there are no fences –just clever bits of low stone walls– so kids can get right up close and examine the scenes.
These dinosaurs are very kid friendly. I walked through the exhibit with a lot of preschooler kids, and only saw one little girl balk at the oversized statues. They're colorful, they move slowly and they make low dino grunts. A couple even shoot water.
Unlilke the St. Louis Science Center's dino battle scene, these giant beasties are shown grazing, peeking over logs and tending to nests full of babies. Even the giant T Rex looks like he's keep a protective watch over the visitors rather than eyeballing anyone for a tasty snack.
Life Sized Dinosaurs!
Dinosaurs were HUGE creatures, and most of the models at the zoo are great examples of their enormous size. A couple are not quite to scale, but you many not even notice, unless your kid is a Junior Paleontologist. Signs by each dinosaur give visitors more details about each creature, including their average adult size.
For example, the brachiosaurus model is 18 foot tall, with his/her head in the trees. This is about half the height we believe brachiosaurus could reach.
However, T-Rex is 12 feet tall, putting it just a foot shorter than Chicago's famous Sue the T. Rex. There's also a life sized triceratops that kids can sit on.
The collection includes some smaller dinos too, and plenty of cute babies.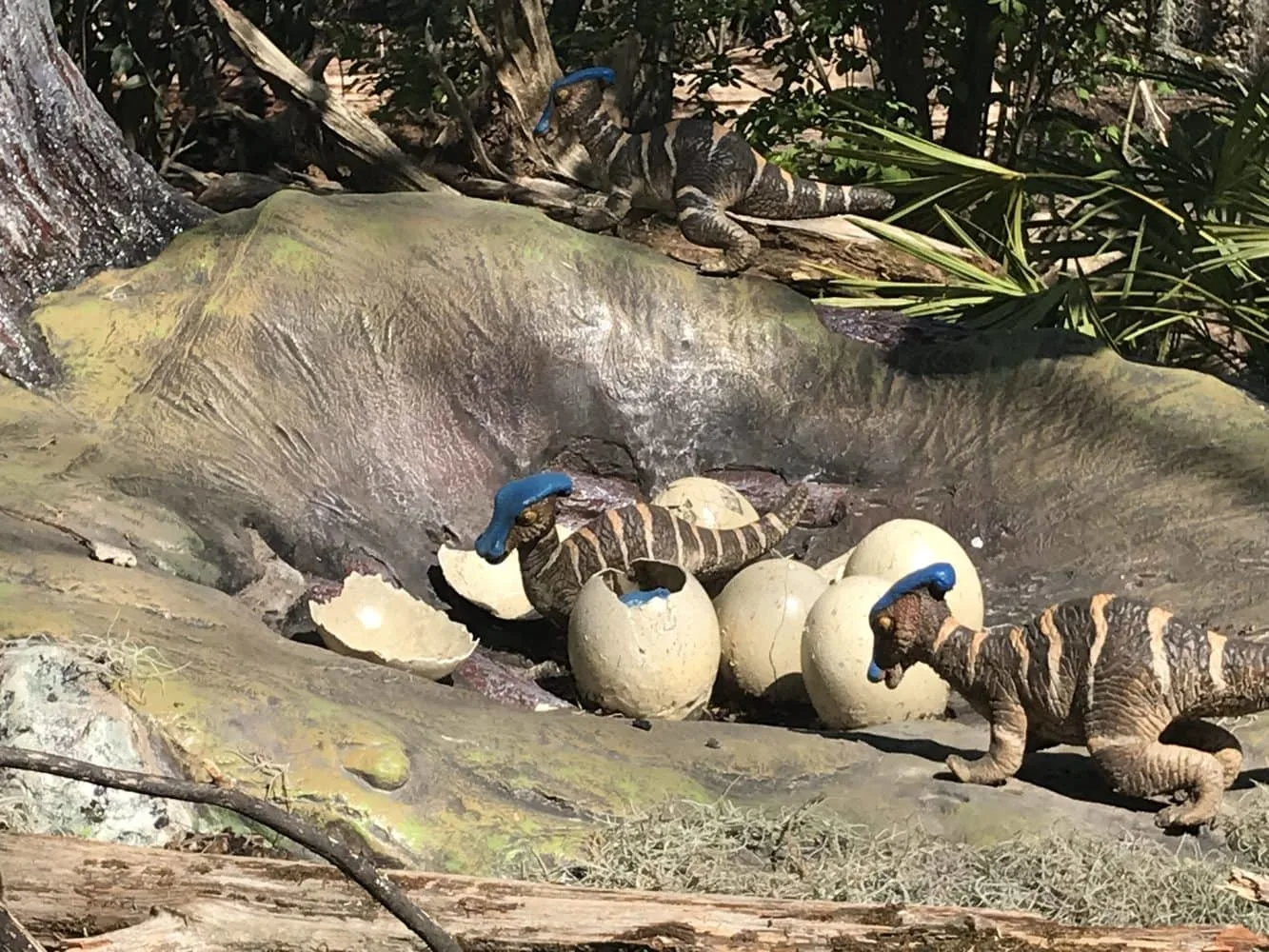 What Happened to the Animals who lived in the Children's Zoo?
The zoo has kept some live animals that they can tie into dinosaurs — for example domesticated guinea fowl will soon be added because scientists believe dinosaurs are directly related to modern birds. The guinea fowl will be allowed to roam free through the exabit.
Some animals have remained with signage added to explain what river otters and Tasmanian devils have in common with the dinosaurs. Other habitats have been hidden behind privacy fences — hopefully this means animals will return to the area as the zoo figures out what they are doing with the space long term.
The petting goats remain behind the scenes in their barn — perhaps they're return with the new set up??
Other animals have been rehomed to other zoos.
What about the Playground and Fountain?
The playground elements have been removed and the slides are conceal with privacy fencing. We're unsure if this was a quick fix to remove "high touch" zones or just a temporary measure until playgrounds are deemed safe to use again. Oddly enough, the playground area is where a touchable dinosaur has been placed.
The splash pad is still there, but looks like it will remain off during Dinoroarous.
My personal opinion is that the playground areas were removed to avoid crowds of kids and adults. In the "before times" parents would gather here and sit around for HOURS on end while preschoolers played on the slides and fountain area. I sincerely hope that playzones will return when the zoo can operate at full capacity.
The Children's Zoo building is now a Gift Shop
Keeping with the "don't touch that" theme of current exhibits, the old building that housed petable bunnies, naked mole rats and meerkats is now a big gift shop. The aquariums remain — jellies lived during the dino age after all.
One really cool exhibit that you'll want to see here is a small Dimetrodon model with the mechanical workings exposed. There's a touch free control panel (it works with light sensors) that allow kids to control it's movement. If your kid always asks "how does that work??" this is a great exhibit to check out.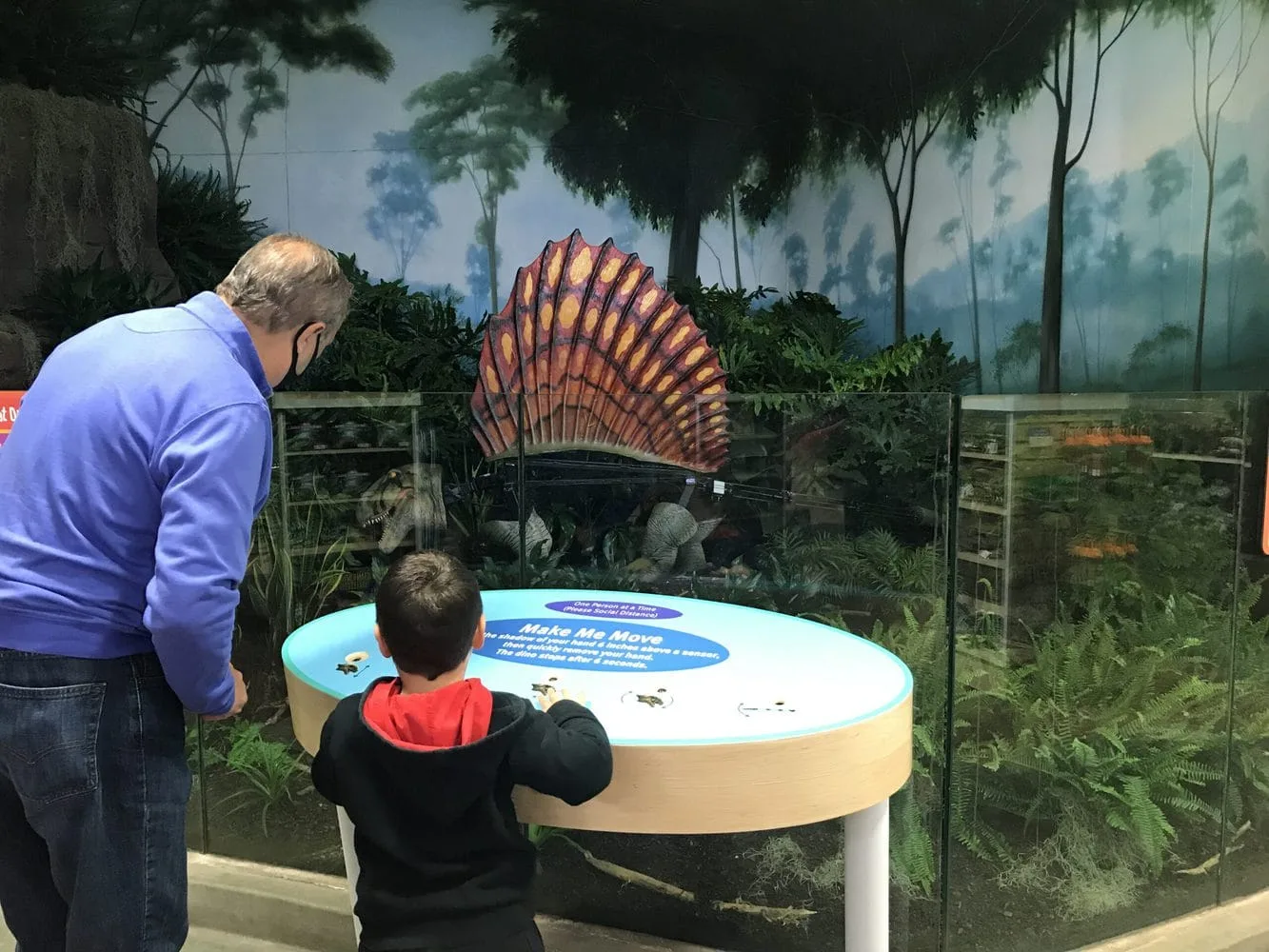 This seasonal exhibit continues at the Zoo for the next couple of years while the Zoo works to reimagine, plan and redevelop the 3.5-acre area into a new, permanent family and children's area, which will continue the Zoo's mission of connecting families and children with animals. 
Zoo Reservations Still Required to Visit
All Zoo guests, including those who wish to experience Dinoroarus, must make a free, timed reservation online in advance to enter the Zoo. Daily attendance is limited to help maintain social distancing within the Zoo. Visit stlzoo.org/zooreservations to make a reservation up to seven days prior to the date of visit. Zoo reservations do not include tickets to Dinoroarus.
About the Dinoroarus Experience