Are you looking for a way to get your tech oriented kids outside to play in nature? Then maybe you should give geocaching a try.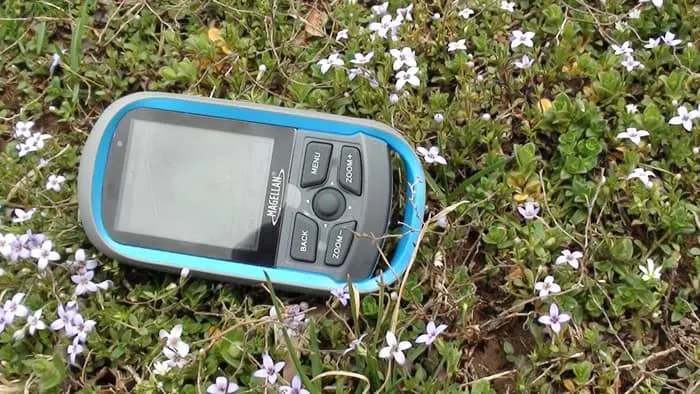 Geocaching is a game played by outdoorsy people all over the world. It's like a high-tech Easter egg hunt, but instead of looking for colorful eggs, you're looking for cleverly hidden plastic boxes. All you really need to play is a computer or your smart phone, good hiking shoes and–most important–a GPS device. If you're not ready to go hardcore yet, your phone will do a decent job of finding caches so long as you have good cell service.
You'll also need a handful of trinkets to swap with other players! (More about that later.)
Visit Geocaching.com (the game's official website) to find a cache to seek. Access to the website is free, but a small membership fee will give you VIP access like more caches and the option to go paperless (if you're not already just using your phone).
Geocaching has been around for years now, so it's a well established game. It seems like most parks around St. Louis have been planted with geocaches waiting to be found! The trick for a mom geocacher is to find those caches easy enough for her kids to find and have "treasures" to swap.
When you visit geocaching.com you can enter your address or area code to find caches near your house or a favorite park. Each listing will have the GPS coordinates of the cache, what size it is, and the difficultly of the terrain.
For kids you'll want to start with 1 star difficult, 1 star terrain AND choose one that is NOT a microcache. Microcaches tiny containers, often smaller than a film canister, with no "treasure." The bigger the box, the better a chance to find something interesting to exchange.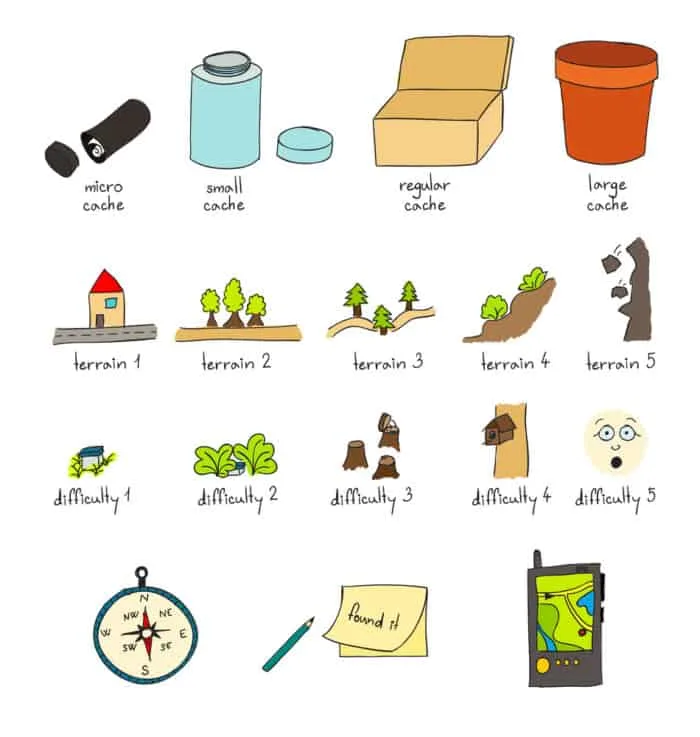 Always read the geocache description and double check it's location on map before taking small children on a geocache adventure. Lots of geocaches have been hidden by crazy college kids and adults who love a fiendish puzzle, so they aren't always easy to get to or even totally safe to access. I've walked down an active train track, along side a busy highway and once through a mosquitoes infested flood plain in my search for geocaches. I've found them inside buggy logs, 15 feet up a tree and dangling off bridges by fishing line. (Don't worry, these were trips without the kids!)
Not to say that all geocaches are impossible to find! Many are kid friendly (check the attributes on the listing) and hidden under simple camouflage a few feet from the trail. Remember that bigger caches are harder to hide, so always choose a large cache for your first time playing.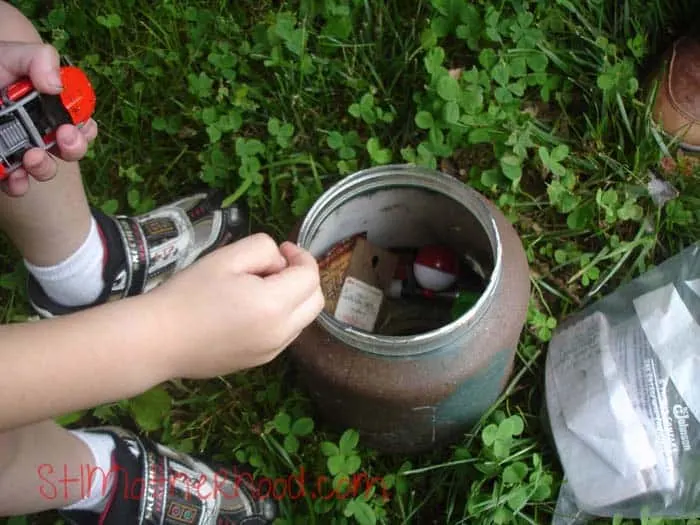 After you've found that geocache you'll fill in a log book with today's date and your name, then take a trinket. Bring along a trinket to leave so the cache remains full. Once you get home you can log your find so the owners will know you visited.
A note on geocache "treasure."
Don't get the kids too excited on what they might find. You could get lucky and find something interesting, or you might find a bunch of junk. It depends on the good graces of the geocachers who found the cache before you and what they left behind. The rule is to taken something from the cache, then leave something in exchange. In a perfect world, people would leave interesting items. Be considerate of others and don't leave broken toys and dirty golf balls (yes, I've found those).
New party favors make excellent geo treasure. Good Happy Meal toys, Hot Wheels or other small toys that your kids are bored with also work. If you wouldn't give it to your kids to play with, don't leave it for strangers at a geocache either!