Bring some Christmas cheer to that boring ol' frig with a handful of bottle cap magnets! This craft is so simple, your kids can make without a lot of help. You know what else brings a ton of cheer?
You'll need just a few items for these magnets: traditional recycled caps from soda and beer bottles, or plastic twist off cap, scrapbook paper, glitter, beads, Mod Podge and magnets. A one-inch circle cutter is VERY helpful! If you're not in the mood to drink THAT many beverages, you can actually buy flattened caps from the craft store.


Mitch and I filled the caps with scrapbook paper circles, then topped them with glitter, beads and dollops of Mod Podge.Free Christmas Bottle Cap Printable
If you click the photo below you'll be taken to a high-res version of the printable to download. Print it out as a 4×6 photo for the proper scale! Here's a PDF you could use if you prefer.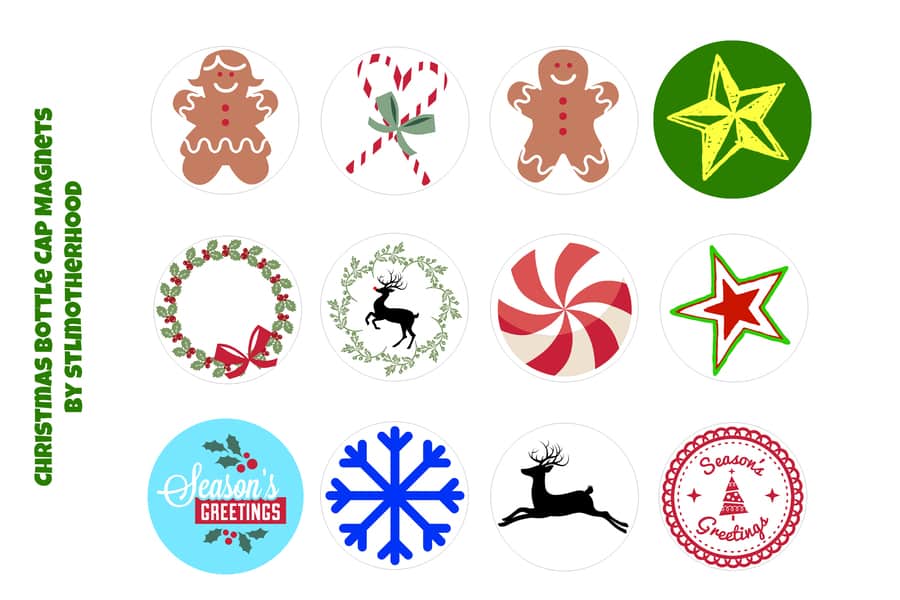 For best results, print this on glossy photo paper–but it will still look pretty darn good on a heavy card stock.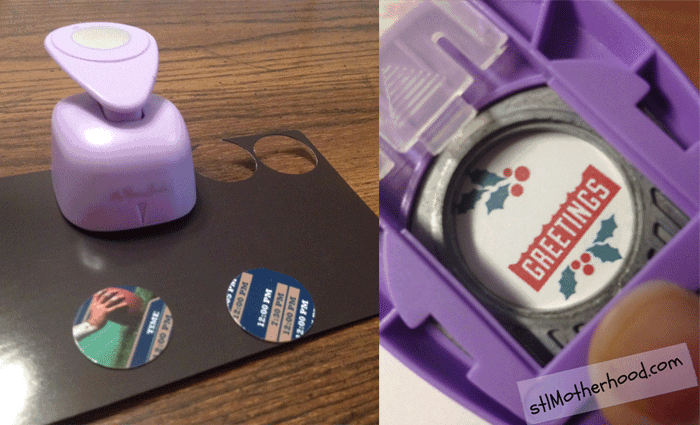 Once you've printed the images, grab your trusty one-inch hole punch and punch away! If you happen to have any thin fridge magnets around–you know, the sort with game schedules printed on them, you can use the punch to make upcycled magnets for the caps. (You could also just glue the images directly onto a circle of magnet if you don't have any caps handy!)
Adhere an image to the inside of the cap and a magnet to the back using glue, glue dots or even double sticky tape. We finished our batch of bottle cap magnets with glitter on the edge. Simply dip the rim of the bottle cap in white glue, then sprinkle with glitter! Allow the glue to dry then tap the excess glitter off the cap.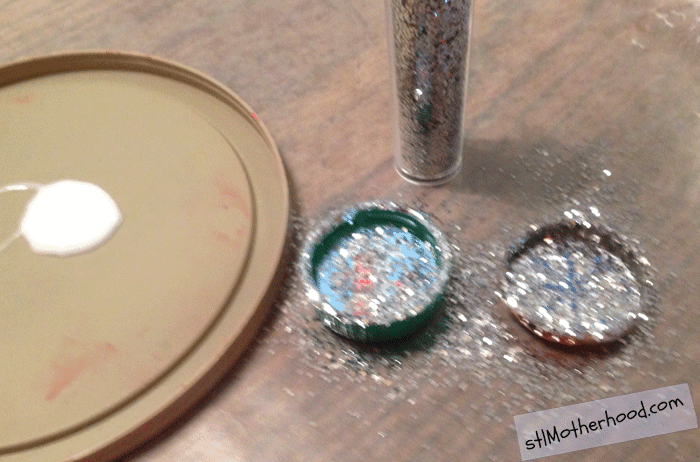 After your bottle cap is decorated, you can fill the inside with a thick layer of Mod Podge. Give it 24 hours to dry while laying flat before you stick them on a vertical surface.