Does your kid spend way too much time with Steve and the Creepers? Want to give him a break from Minecraft without causing a fuss? Then you'll want to check out the following Minecraft paper toys you can buy or download!
Let your kid take their mining and crafting from the gaming screen to the kitchen table with one of these three awesome paper toy sets! Sure, they're still playing Minecraft, but now they're using paper, scissors and glue for real life creativity. (You can tell the Steve character in the photo above was made with a lot of help from my 6 year old. He loves tape. Not sure why he got an ugly Christmas sweater.)
Minecraft was created around 2009 by an independent Swedish game designer and it caught like wildfire while it was still being developed. Unlike games created by big software companies, Minecraft was created and improved WHILE people downloaded and played it. Which kinda explains why it's taken so long for typical American toy marketing to catch up with the game.
Last Halloween I shared a DIY Minecraft Creeper costume–it was pretty popular because there were no costumes to buy in the store. None. We've also made Minecraft ornaments and Valentine's cards, because my main crafter is a pretty artsy six-year-old kid. But we don't just make our crafts for holidays…
We also like to make toys. Real toys that you can really play with. Imagine that!
Three ways to get creative Minecraft paper toys for your own kid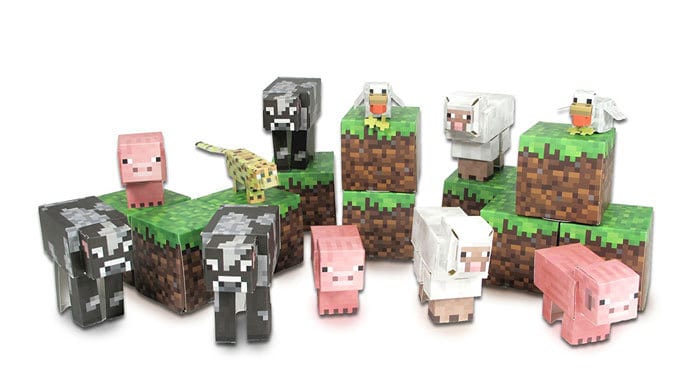 1) Buy Minecraft Papercraft sets at Amazon. (affiliate link) These are official Minecraft products, so the quality is super nice. If you don't have a good color printer, and don't mind spending 20 bucks, this is the way to go. 
Of course you only get a limited number of blocks per set and you'll soon use up the paper…so you'll have to buy more!
2) Download the Minecraft Papercraft Studio App.
This is another officially licensed product from the Minecraft folks, so the quality is excellent. The basic app is cheap compared to the pre-printed sheets–for $3.99 you get an unlimited number of blocks, mobs (that's the animals and monsters) and Steve. There are a couple of in app purchases for armor to add to your paper Steve and flat "block" tiles for making a diorama or toy house. You'll probably want to buy the Skin Designer too, which means you can make your own character, print him or her out and upload it right to your computer game. I spent around $12 on the whole package.
$12 might sound expensive for an app, but remember that you're getting unlimited access to ALL the blocks and custom characters that you can print over and over again.
We've played with the app for a couple days, so I can tell you it's well worth the price. If you have a color printer and a stack of card stock you can cut and paste to your heart's content. You'll also need a device (Apple or Android) that can download the app. Don't worry if your phone/tablet isn't on speaking terms with your printer–you can also create PDFs of the blocks and email them to your computer.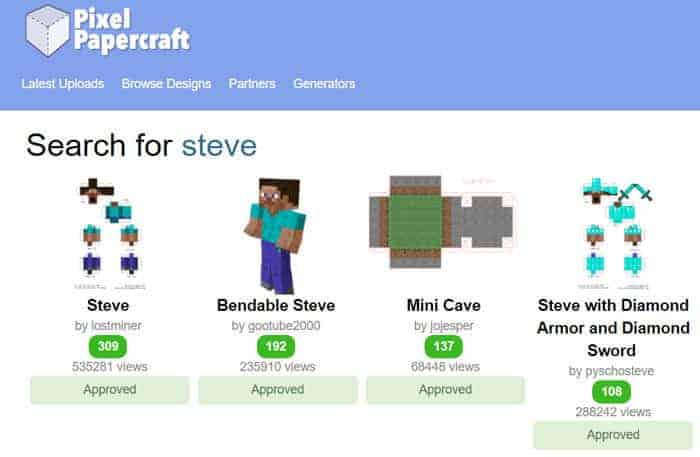 3) Pixel Papercraft is the best free way to get your paper Minecraft fix. This website is not affiliated with Minecraft and is stocked with art designed by fellow Minecraft enthusiasts like you. The good part is…hey, free. The bad part is you'll have to sift through hundreds of designs to find the one you want. The site is well organized, so maybe that's not such a problem.
The only issue I've had with Pixel Papercraft is that sometimes you'll find a design that's just stupid hard to build. Really, who has time to make tiny little blocks for this horse's ears??
Pixel also has designs not found on the official app yet, like armor for horses or a bendable Steve. Artists have also uploaded off the wall designs like Steve with a pumpkin head or a chicken in diamond armor. Some people just have too much time on their hands…
PS
This post was NOT sponsored and I purchased the Minecraft app myself. Just, you know, FYI.