Play Dough is one of those basic toys that every kid should get explore! It's not only great for creative play, but it helps toddlers and young children develop finger strength and fine motor control. And seriously, there's no upper age limit to playdough! Whenever we break out the Play-Doh Fun Factory I want to play too!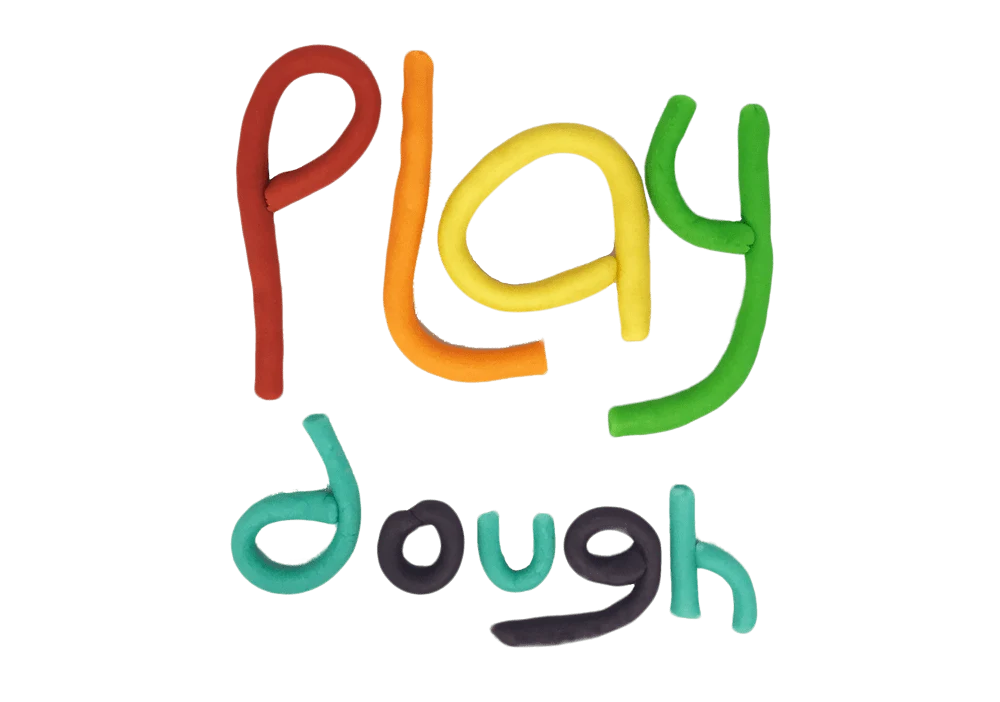 How do you make Homemade Playdough?
You can certainly pick up store bought Play-Doh in a can, but sometimes it's fun to make a giant batch of homemade dough and customize the colors, textures and scents.
I've scoured the web for the very best play dough recipes–like glitter dough, scented dough and cloud dough! Mitch and I have tested quite a few of these recipes to find which one is the most awesome.
To Tartar or Not to Tartar
One of the big questions floating around the interwebs is "what's up with all that cream of tartar"? I'm no chemist, but apparently cream of tartar is an acid chemically necessary to make your dough flexible and stretchy. Without an acid or suitable work around, your dough recipe will be too crumbly and flimsy….like pie dough.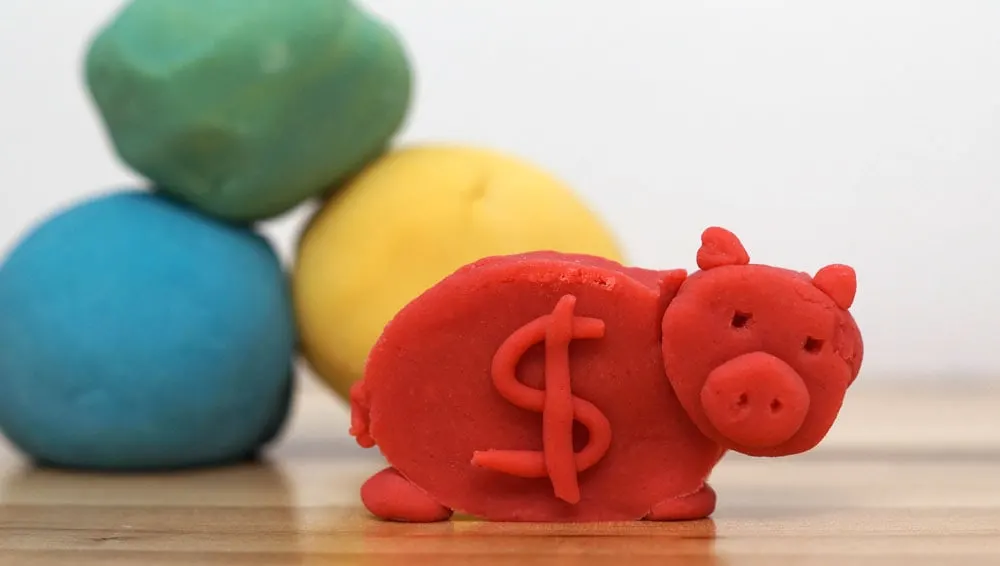 Cream of tartar can get expensive in large quantities–$3 for a small jar at Walmart–so you might want to experiment with recipes that use smaller quantities or avoid it all together if you're on a budget.
Don't use Vinegar! Yes, it's a food safe acid and it makes a really well textured play dough. However it reeks something fierce no matter what kind of smelly additive you try to cover it with. My college boy was home when we mixed up a batch and said, "it smells like salt and regret."
---
Basic Play Dough Recipe
Let's start with the classic recipe that's been floating around mom's kitchen for years. This one has a lot of cream of tartar and is a respectable replacement for commercial Play-Doh.
1 cup flour
1 cup water
1/4 cup salt
2 tablespoons cream of tartar
1 tablespoon vegetable oil
Mix the dry ingredients together in a bowl.
Add oil and water to a saucepan over medium heat.
Gradually add the flour mixture and stir until the dough forms a ball.
Place the dough on a sheet of wax paper to cool before little hands work with it.
If you want colored dough, either add food coloring to the whole pot (for one batch of color) or divide the dough into ball and add a color to each.
For less mess, place the dough into zip bags for adding color. Once the color is well mixed it will not transfer to your kid's hands.
---
My Microwave "No Cook" Method
Basic play dough needs to cook a bit for the ingredients to meld into a dough. There are several recipes on the web claiming to be a "no cook" formula…but most of them are using boiling water. Like, from their stove.
Cheaters.
Boiling water is not any faster than cooking the dough on the stove. It's certainly not safer for your kids.
However, you can avoid your stove top all together and MICROWAVE play dough. Simply use any of the basic recipes in this post (flour, salt, oil, water, acid) but use hot tap water!
Mix your dough in a microwave safe bowl — I like to use a big Pyrex mixing cup. Microwave it on high for 30 seconds at a time–then stir–until the dough gets stiff. Finally dump it on a sheet of wax paper or a silicone mat and knead until it's no longer sticky.
It will be hot, so if you want the kids to work the dough wait for it to cool off a bit.
---
MORE Great playdough recipes we want to share with you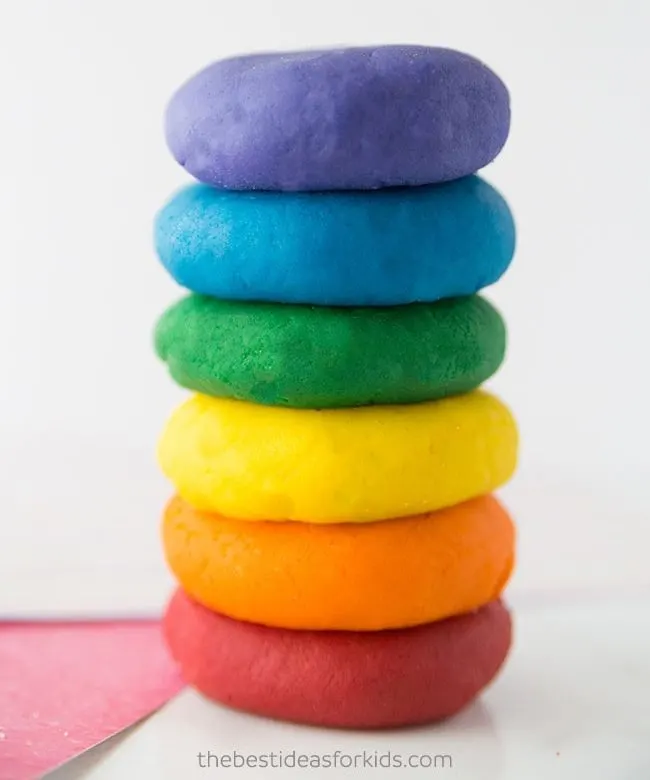 This recipe from The Best Ideas for Kids only uses 2 teaspoons of cream of tartar, so you can get several cups of dough from even a tiny jar. It's very soft, super stretchy, but kinda difficult to build with. Mitch said this one was really fun as a fidget object–like a batch slime or putty.
Pricey cream of tartar is swapped with lemon juice in this creative recipe! You can also try vinegar — it's also an acid — but you might not like the smell.
No cream of tartar plus it smells great!
This one doesn't cheat–you don't need your kitchen at all. The trick? Dish Soap! Small kids can totally make this themselves.
You'll just need two ingredients–and no heat–for this super squishy dough. Also makes a pure white dough you can use for snowmen!
Need to make black play dough that's actually black and not greyish? Here's how!
I seriously can't believe how many recipes I dug through before I found this genius mom who put her Kitchen Aid to work!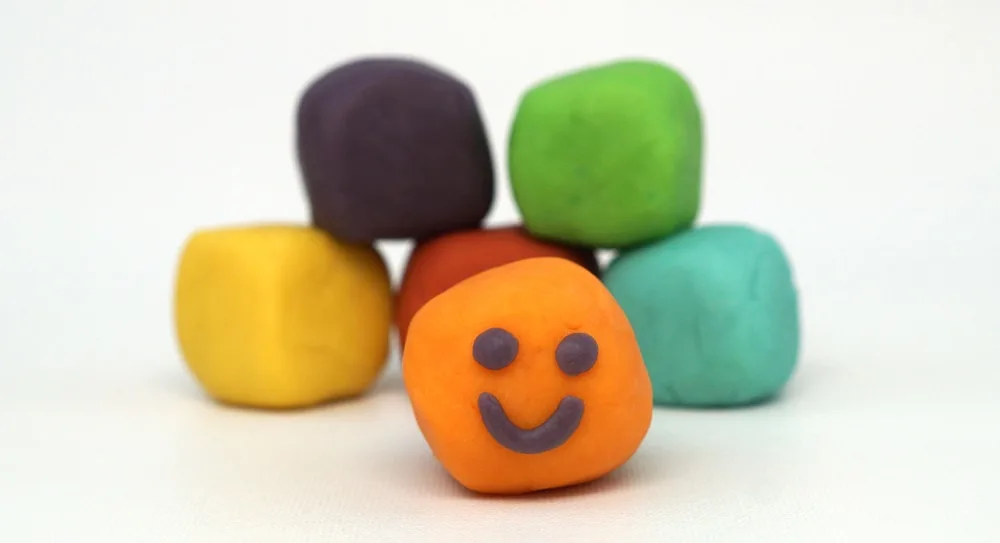 ---
Next Level Doughs
Glitter! Science! Bubble bath dough! These concoctions take your crafty kids to the next level.
---

Scented Play Dough
These doughs start with a variation on the classic recipe then add interesting flavoring extracts, spices or oils. These are NOT edible, so don't use them with little kids who can't follow the rules yet.
Pumpkin Pie Play Dough with real pumpkin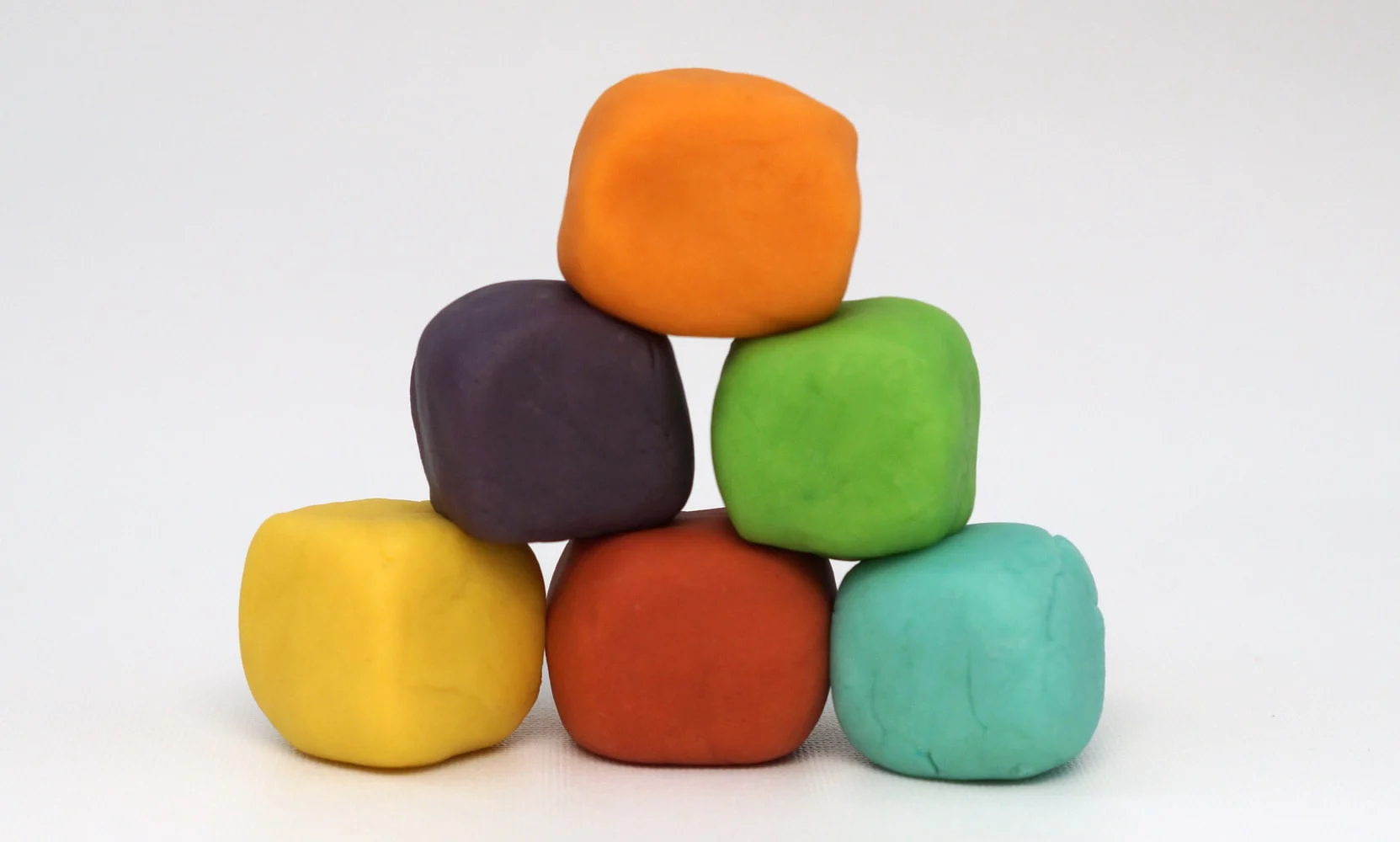 ---
Edible Play Dough
Most homemade play dough recipes try to be "non toxic" and even store bought Play Doh is technically safe to lick. But all the recipes you've seen on this post so far are not meant to be EATEN–way too much salt! Gross! (Yes, I did taste a couple. Ick!)
But if you have a toddler or preschool who just can't stop sampling the play dough, these recipes are for you! They are all made of actual food–generally boat loads of sugar, so I don't know if you really want to ENCOURAGE your kid to eat this stuff.