You don't really need an excuse to have a backyard picnic, but with the Fourth of July right around the corner, I thought it would be a good time to break out the red-white-and-blue and have dinner outside!
Every year we head out to my parent's house in the boonies for our Fourth of July festivities. Fireworks are legal out in Jefferson County and they have an open field for shooting them off. Sure, we could go to Fair St. Louis to see fireworks, but isn't it more fun to light them up yourself? My teenage son certainly thinks so!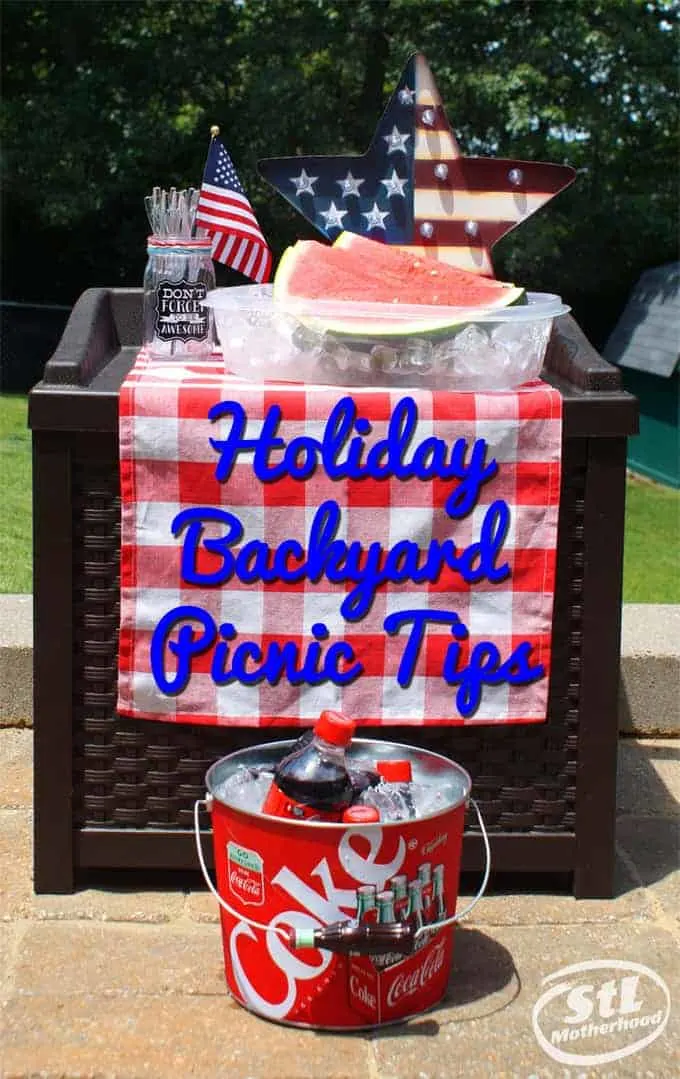 Paper Plates, Napkins & Disposable Cups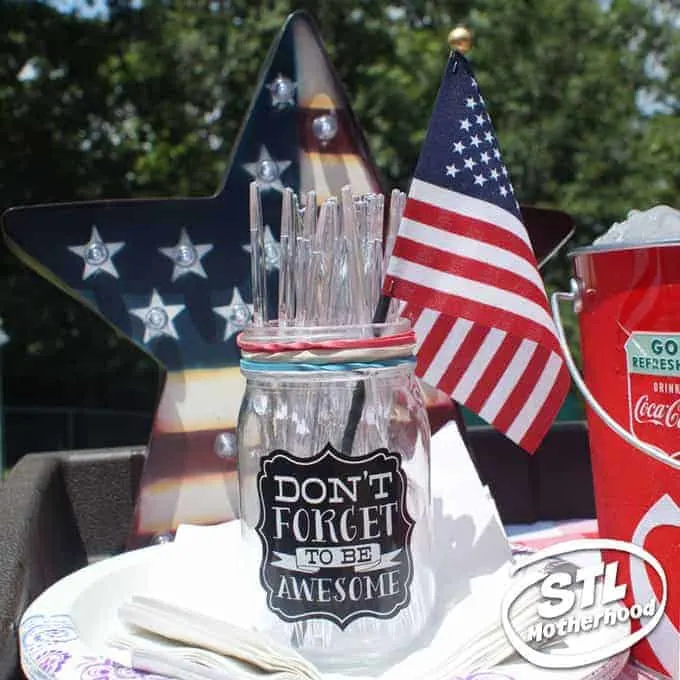 Don't to take your indoor dishes outside and risk breaking them! Plus, who wants to wash anything on a holiday?
You can keep your utensils together in a classy way by putting them in a fun mason jar mug–which also doubles as a paper weight for your napkins. I decorated mine with red, white and blue rubber bands! When you're done using it to hold plastic forks, you can pour it full of your favorite fruity beverage.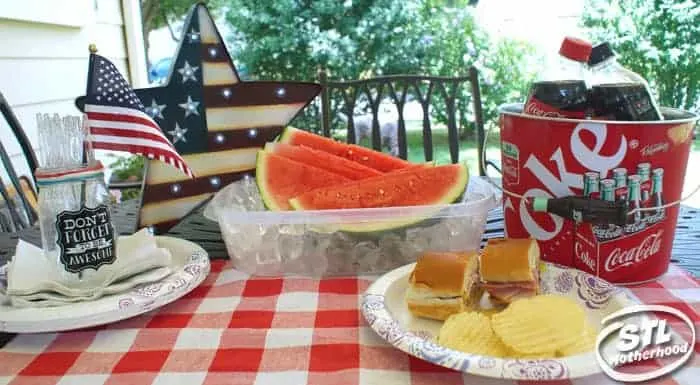 Ice, Ice, Baby!
Keep cold things colds and hot things hot. The FDA has all kinda of details on food safety, so you can head over there if you're interested in exact temperatures. All I know is that Coke tastes better on ice–and so does watermelon! I nestled sliced watermelon in large plastic container of ice, so it will stay frosty until it's ready to eat.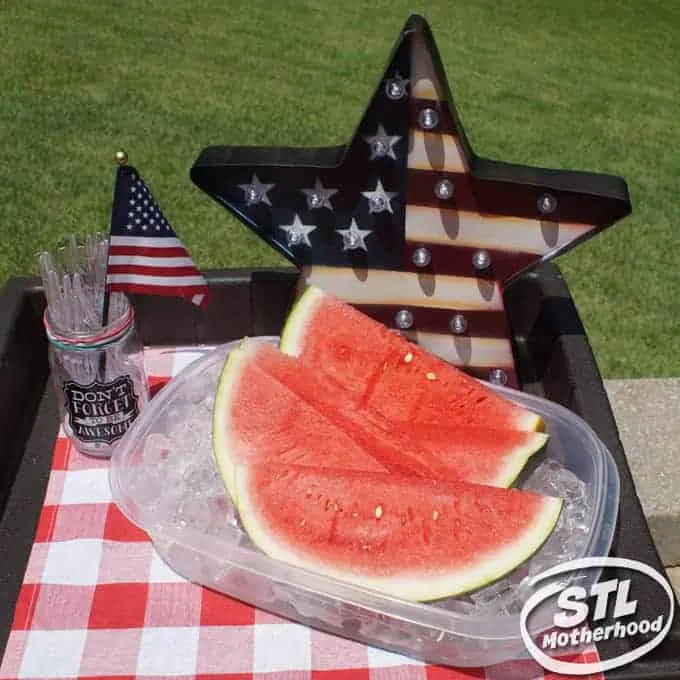 Add Americana
Let your colors show with a little Americana decor! I bought little American flags and found a super awesome marquee light star that runs on batteries. You can find similar stars at places like Hobby Lobby.
Keep away the bugs with citronella candles and/or tiki torches.
We're not sure if Citronella actually keeps mosquitoes away, but I LOVE having little table top tiki lamps. These's red, white and blue table torches are AWESOME.
If you're looking for science backed mosquito repellent, stick to the DEET or maybe some oil of lemon eucalyptus.
Bluetooth Speakers
Bring the tunes outside with the help of Bluetooth. When I was a kid, everyone had boom boxes. Now everyone has headphones! Share the music a Bluetooth wireless speaker. We have a couple by JBL and they deliver excellent sound. I've got one in the kitchen, my hubs has one that he uses either outside on the patio, or in the garage when he's working on the cars. (No, he' not permitted to move my kitchen speaker!) They're also waterproof, so you don't have to worry about rain…or kitchen splashes.
Yard Games
Bring the games! Don't let your kids get bored because they're being forced to take in some fresh air! Plan for a couple outdoor games to complete your backyard picnic.
You can make our popular Coffee Filter Parachute Guy, a diy bean bag game or try this GIANT FREAKING BOWLING SET. ???
Don't waste time on food prep!
After all that trouble you went to making your backyard festive, who has time to work in the kitchen? Head to your local grocer deli and grab a couple sandwiches, a bag of chips and fresh watermelon. It's so easy to plan a picnic that you don't have to wait for a holiday–do it right now!