It was a beautiful Sunday afternoon in October, with clear blue skies and some of that lingering St. Louis summer still in the air. A little hot for Autumn, but not so much to make a person complain. We could hear kids squealing in the bounce house not far away, but all we could see was corn. Lots and lots of corn.
We were lost.
It was too nice outside to squander our time on video games, so we ventured outside to the Brookdale Farm Corn Maze. It was a perfect day for getting lost in the tall corn. And being so early in October there was no crowd, just a few other families enjoying hayrides and pumpkin chuckin'.
Brookdale Farms Fun
Brookdale Farms charges a pretty reasonable admission, and it includes almost everything. It's $6 for kids 4 to 11 and $9 for anyone over 12. Kids under three are free. Included is access to the maze, a wagon ride, a "cow train" for the younger kids, a huge inflatable slide, a bounce house and playground with zip line, and a barn full of animals to pet.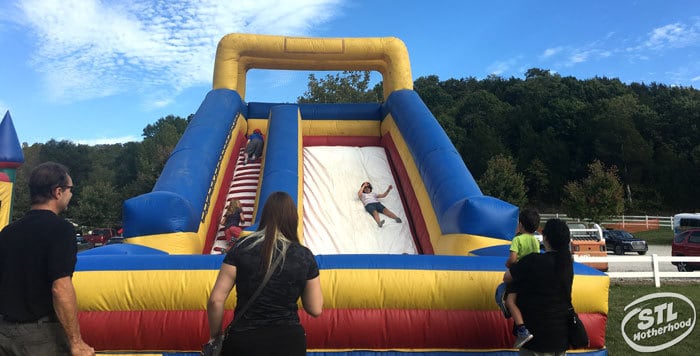 The only thing not included are pony rides, knockerball and ammo for the pumpkin chunkin.
Wagon Hayride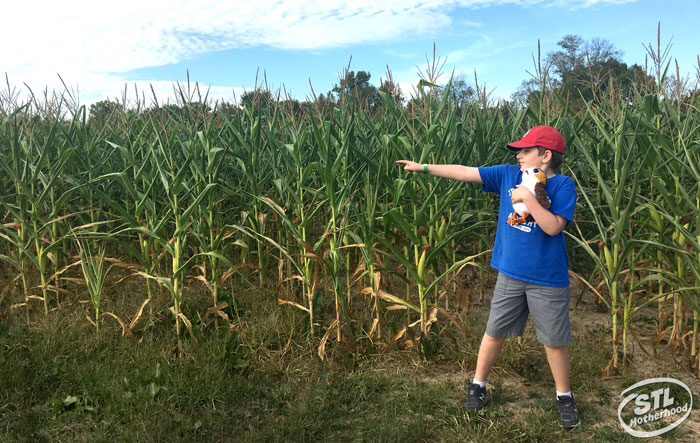 The hayride is pretty nice at Brookdale and best of all, unlike some farms, it actually goes somewhere. The driver takes you around the corn field, through a beautiful shaded lane and across the field to the pumpkin patch, sling shots/pumpkin cannon and the animal barn.
Two Mazes of Fun and Fear
Brookdale hosts two very different corn mazes. During the day you can visit the "regular" maze, which is a true labyrinth to test your navigational skills (see the video above). After 6pm they switch to Scary Halloween mode and you can visit Red's Cornmaze Massacre and the Haunted Hayride, you know, if you're into that sort of thing. These are outdoor "haunted houses" with all the jump scares, blood, and actors chasing you with chainsaws action you can handle. Or maybe more than you can handle.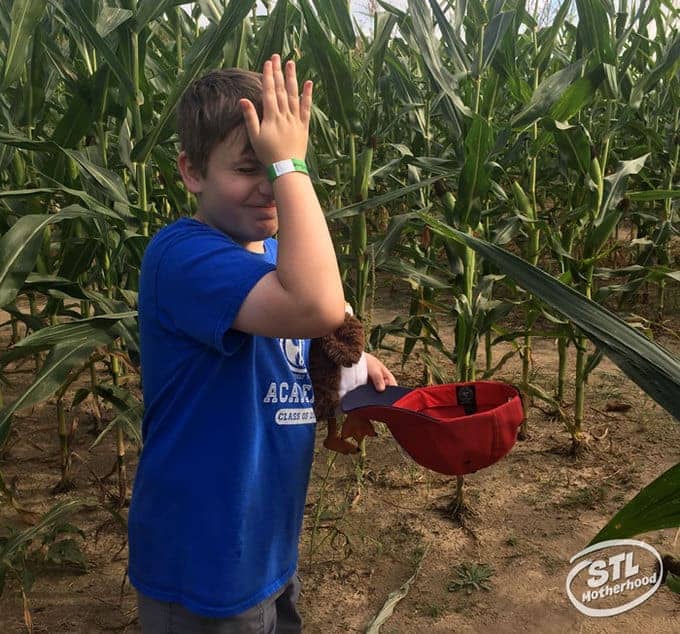 I'm not a big fan of haunted houses–I once did the Darkness with ALL THE LIGHTS ON and it found it way too creepy. But if you have tweens or teens and are looking for a good scare, you can check out the details on Red's Cornmaze Massacre here.
It's nice to know that Brookdale plants two ENTIRELY DIFFERENT MAZES for a few reasons. I visited this place many years ago, when Mitch was a stroller baby and they only planted ONE maze. This meant daytime visitors would have to sneak by a spooky shack or a bloody hearse…kinda weird when you're with your kids. You could also see the spots in the corn where terrified evening visitors tried to break right through the rows!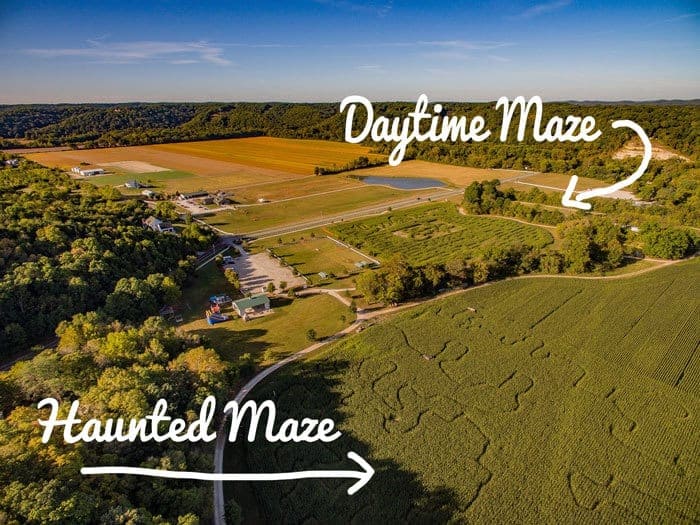 These days there's NOTHING at all spooky about the daytime cornmaze–and it's more complex. You can tell from this photo that Brookdale now keeps the haunted maze more of a one way run, so visitors don't need to worry about getting lost while being chased by a zombie farmer.
Pumpkins to Buy and Chuck
Brookdale Farms seems to grow it's own pumpkins, and there's a somewhat more limited supply than what you'll find at Stuckmeyer's or one of the other pumpkin patches. But to be clear, Brookdale's main attraction are the mazes.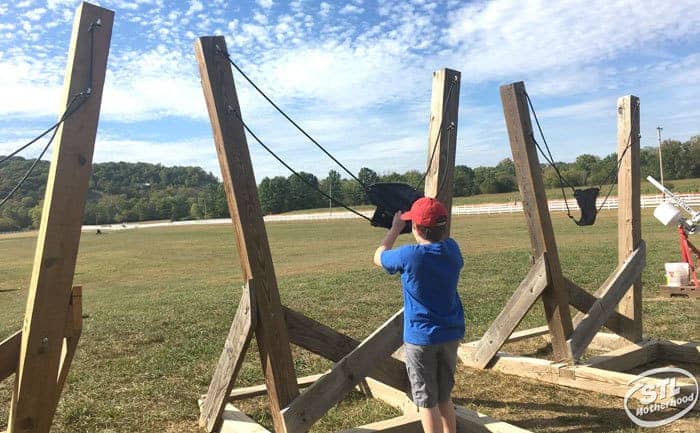 And the pumpkin chunkin'.
They have three large sling shots set up, plus a miniature one for kids. You can buy mini pumpkins for ammo–we got 12 for $10. If you're feeling like a big spender, you can fire the corn gun or pumpkin cannon for $5.