When you go to the movies you want to go BIG, right? That's why the Marcus Ronnie's IMAX in South County is our favorite place to see a movie.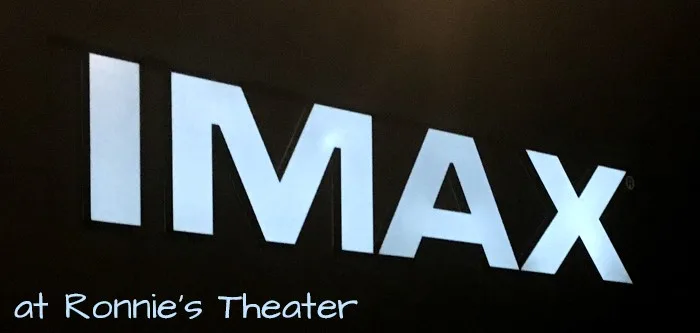 (This post is sponsored by Marcus Theaters, but all opinions are my own.)
Sure, there's a couple other really huge screens in the St. Louis Metro, but none can really knock your socks off like the FIRST big screen*…the IMAX at Ronnie's. Originally installed by Wehrenberg back in 2005, we've seen dozens of blockbusters on that
super humongous screen, from
Harry Potter
flicks to the most recent
Bladerunner
. Action films really deserve the IMAX touch, doncha think?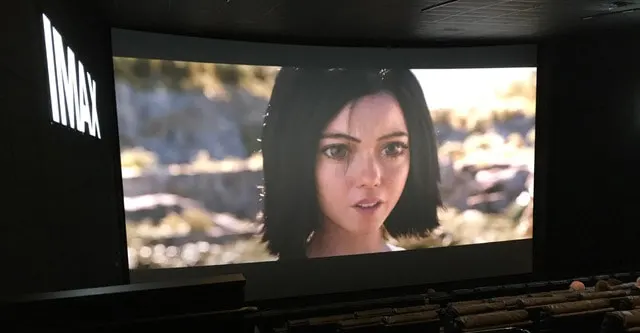 *Technically, the Saint Louis Science Center installed the first IMAX in our area, but most of the time they only show documentaries. Meh.
I was super excited when the Ronnie's new owners started renovating my favorite theater. They ripped out carpeting, brought in some tasty food options, introduced us to the
SuperScreen DLX
and installed those
amazingly cozy DreamLounger seats
in every theater
…well, every theater except the IMAX. 😥
IMAX Renovation
The IMAX is not your ordinary theater auditorium. It's a whole different movie going experience, with bigger screens, higher resolution, different seating and most important–its all trademarked by the IMAX Corporation. In order to upgrade the Ronnie's biggest auditorium every detail would need to be approved by IMAX to make sure it kept their impeccable standards.
So maybe it took a little longer, but I'm happy to say, the Ronnie's IMAX theater has never been more impressive!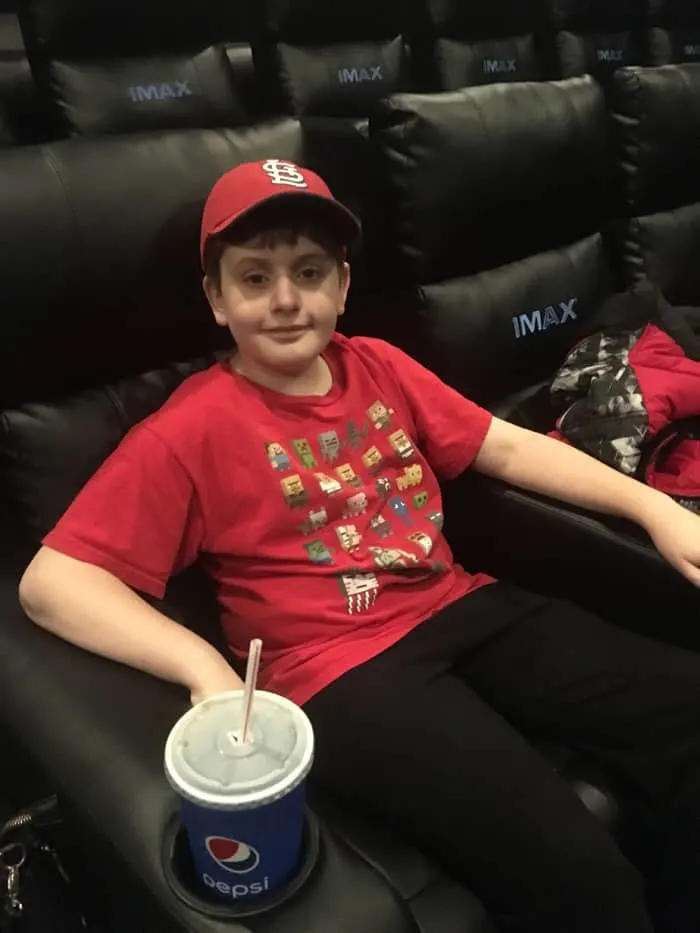 Now let me be totally honest here. I managed to get very spoiled by the over-sized leather recliners installed in all the other auditoriums. I used to think they were kinda silly…but now I'm hooked. I kept asking my contacts at Marcus if they knew when the IMAX would be renovated too, because I knew that would be the cherry on the IMAX sundae.
I actually avoided the IMAX for the good part of a year because the old seats just didn't seem up to standards anymore. Not that we stopped seeing movies, we just moved over to the DLX screen which is nearly as good as the IMAX screen and sound quality.
But now the Ronnie's Theater is 100% remodeled. The IMAX got a complete overhaul with comfy rocking seats that have tons of elbow room. In fact, the theater used to hold 500…how it's got 220 seats. Good thing you can reserve them in advance!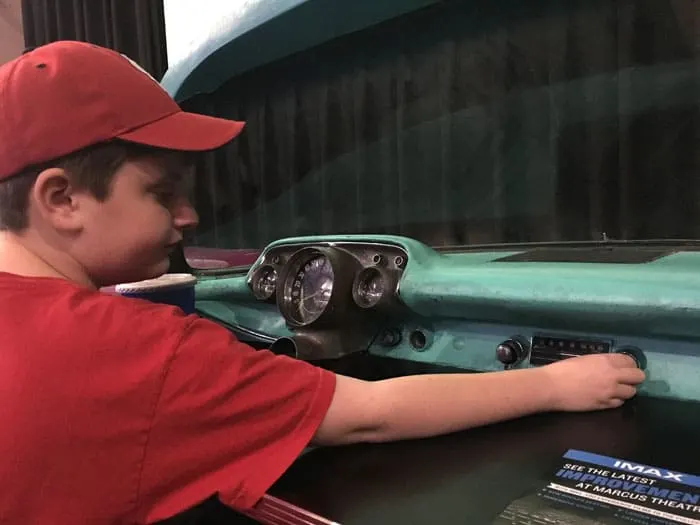 ♦Ronnie's Trivia Break♦
Why does the Ronnie's have a drive-in theme–complete with chopped up 50's car's–for their dining area?
Who was this Ronnie guy anyway??
Dinner and a Movie
There's a couple of good places to eat around Ronnie's Plaza, but you might be overlooking the best one–right inside the lobby! Yep, not only did the theater get some fancy seats and new screens, but it also got a huge boost in the food department. Order at the counter and dine before the movie in the Ronnie's "Drive-In" seating area, or take it straight into the movies with you!
Zaffiro's Express
Zaffiro's Express may not be IMO's but, it's a thin-crust pizza with a genuine Sicilian pedigree. You can also get a sandwich, salad or appetizers and enjoy it at a table in the lobby or take it right into the theater.
Reel Sizzle
The Reel Sizzle offers classic burgers with just about any topping you can imagine. Order it up with a basket of fries and a shake!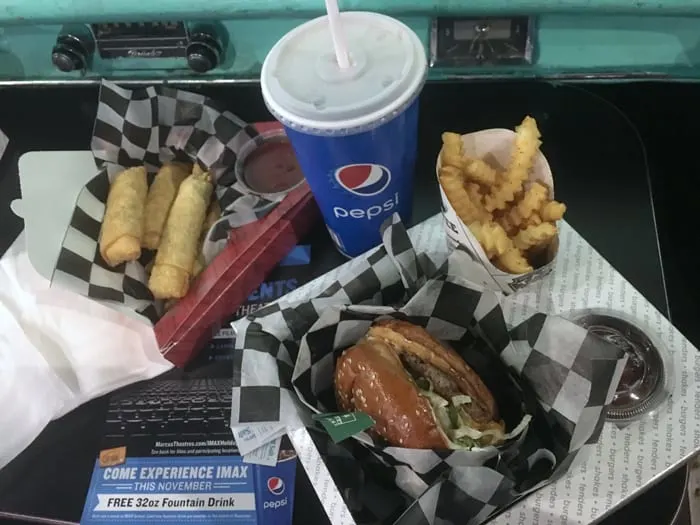 I do have to warn you, these burgers are pretty messy if you really glob on the toppings like I did here–cheese, lettuce, tomato and avocado! You might be safer eating at a table. But every meal is served in a go box with a little holder for your ketchup. If you're feeling brave, you can take it right into the movie.
I took the family in to see Fantastic Beasts: The Crimes of Grindelwald on the IMAX. We went on a Sunday evening and enjoyed our burgers in a classic car table while watching Sunday Night Football on the lobby screen.
Take Five Lounge
If you're having a Date Night, then the Take 5 Lounge is the place to be. You'll forget you're in the lobby when you sit inside this beautifully lit bar sipping on an adult beverage. You can order anything off the menu from the Reel Sizzle or Zaffiro's Express–they'll give you a buzzer so you can pick up your food when it's ready. And of course you're welcome to take your adult beverages into the theater.
Winter Break Films

Marcus is the place to be this winter with all the films your family wants to see! Don't miss Aquaman playing in the IMAX in both 3D and 2D!
There's a Marcus Theater Near You
With eight locations throughout greater St. Louis, Marcus Theatres has plenty of moviegoing fun in store this holiday season! Not to mention, several other locations including Chesterfield, Des Peres, O'Fallon and St. Charles Cinemas have also been upgraded. Visit MarcusTheatres.com to learn more.