Are you feeling STRESSED OUT and just want to SQUEEZE something? Then check out this stress ball you can make with dried beans and balloons!
A bean stress ball is great for tactile fidgeting AND they make great bean "bags" for indoor games where you need to throw a marker that won't bounce away. (Think giant tic tac toe, indoor horse shoes or corn hole.)
Learning to juggle? These are perfect and won't roll away when dropped.
Did you know stress balls can help kids focus by prompting you to release pent up energy? Ok, it's not as great as maybe going for a dog walk or a game of hoops in the driveway, but if your kid is just trying to get through a virtual math class? Yeah, let's give the old stress ball a try.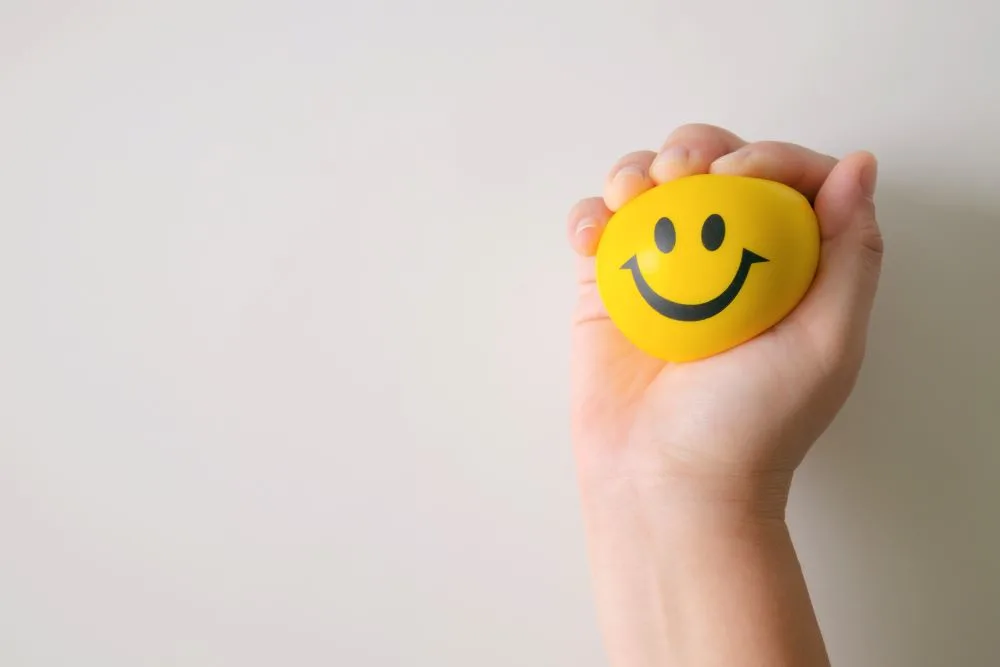 Balloons and Beans
Our stress ball is made with four layers of balloons for extra strength. But even if something should puncture the ball on accident, the beans inside will make a smallish mess…unlike similar balls made with flour. YIKES!!
The beans we're using are dried Navy beans, which are nice and roundish. You can use any sort of bean that you have on hand. I think I found these in the back of my pantry from an emergency stockpile run. (Turns out I'd rather use canned beans in my soup, thank you very much.)
Beans are also very cheap — this small 16oz bag was about a dollar.
Balloons are also pretty cheap, but honestly you probably have a few in a junk drawer. Well, at least I did. For this project you'll want ordinary 9 or 12 inch ROUND latex balloons.
Professionally made stress balls can be $3 or $4 EACH. A bag of beans and 12 balloons will set you back $2 and make 4 stress balls! (That's 50 cents each!)
Tips for Making Balloon Bean Stress Balls
We used dried beans, but you can also use dried rice or flour. Flour is a bit…messy.
Blow the first balloon up before stuffing — this will stretch out the balloon and make it easier to fill.
No need to tie a knot in the first balloon! In fact, you'll get a SMOOTHER ball if you cut the neck off ALL the balloons.
Three layers of balloons is good enough. Four is more secure and smoother. Five? Why not?
Use a permanent marker to draw a face or other design on your balloon if you like.
Add a plastic shopping bag to the second to last layer to form a tail like these Ghost Balls we made for a lawn game!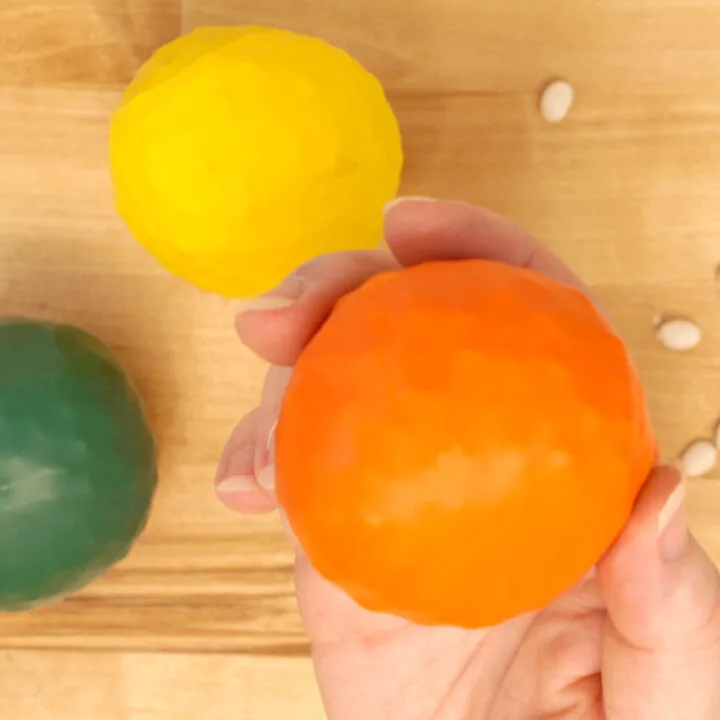 Make a Bean Bag Ball
Make a bean ball for stress relief or for to use as a bean bag for indoor games.
Materials
3 or 4 Latex Balloons
Dried Beans
Water Bottle
Instructions
Cut off the bottom of the water bottle to make a funnel.
Blow up ONE balloon to stretch it out.
Place the balloon around the neck of the bottle.
Use the bottle as a funnel to pour beans inside. Go ahead and stuff the balloon full, smashing them in with your finger or a wooden spoon handle.
Snip the balloon OFF the bottle.
Cut the neck off 2 or 3 more balloons.
Place a balloon over the bean ball, making sure the opening of the first balloon is centered in the BOTTOM of the balloon.
Layer one or two more balloons, always making sure the openings do not over lap.
Notes
Three layers of balloons should be good enough, but four is more study.