We've been making ornaments like crazy around here! Want to see our latest creation? Drum roll please…..
Angry Birds!!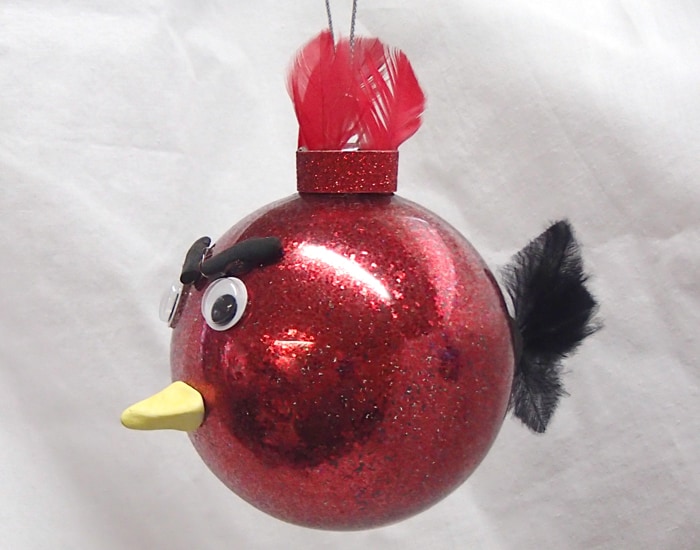 Mitch loves to play Angry Birds on my iPad. Angry Birds in space, Angry Birds in winter, Angry Birds in Rio, Angry Birds just being angry. And the Bad Piggie game, can't forget that. He even has a few real world toys, like a Hot Wheel set and knock down the piggies game (you know, Angry-Birds-for-real-in-your-living-room game).
Angry Birds have been around longer than Minecraft, and therefore have more of a presence in the toy aisle. I'm sure if you look around you can find an Angry Bird ornament to buy. But what fun is that? Let's make one!
I love how shiny glitter looks inside a clear Christmas ornament–plus sticking the glitter on the INSIDE means no glitter coming off on your hands.
How to make an Angry Bird Glitter Ornament
You will need:
glitter in the appropriate color

white glue

googly eyes

markers (optional)

ribbon

feathers

scissors
Use plastic ornaments if you're working with little kids–glass is ok if your kid crafter is careful. You know the drill.
Fill the globe with watered down glue. Rotate the ornament until the whole inside surface is coated. Pour extra glue mixture out into a bowl (you can reuse the glue for another ornament if you're doing several birds.
Pour in your glitter. Be generous. Shake shake shake until the inside of the globe is well covered. Dump out extra glitter into a bowl.
Decorate the face with googly eyes. Use glue if you don't have self stick.
Make a beak and eyebrows from clay. We used Crayola Model Magic (for the black) and Crayola air dry clay for the beaks. This wasn't on purpose–we didn't have any yellow Model Magic in the house. The air dry clay we had on hand was neutral colored, so we colored it yellow with a marker.
The moral of the story? Use what you got, it's all good!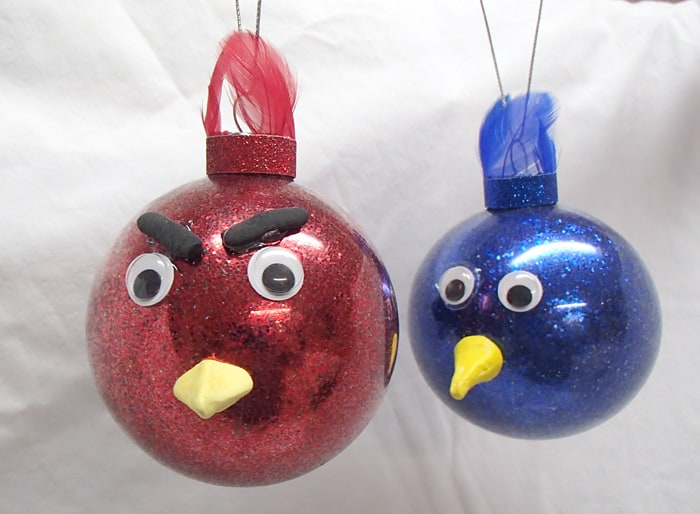 Trim three black feathers down to size and stick them into a ball of clay. (All the birds I know have black tail feathers.) Feel free to shape the feathers into triangle shapes!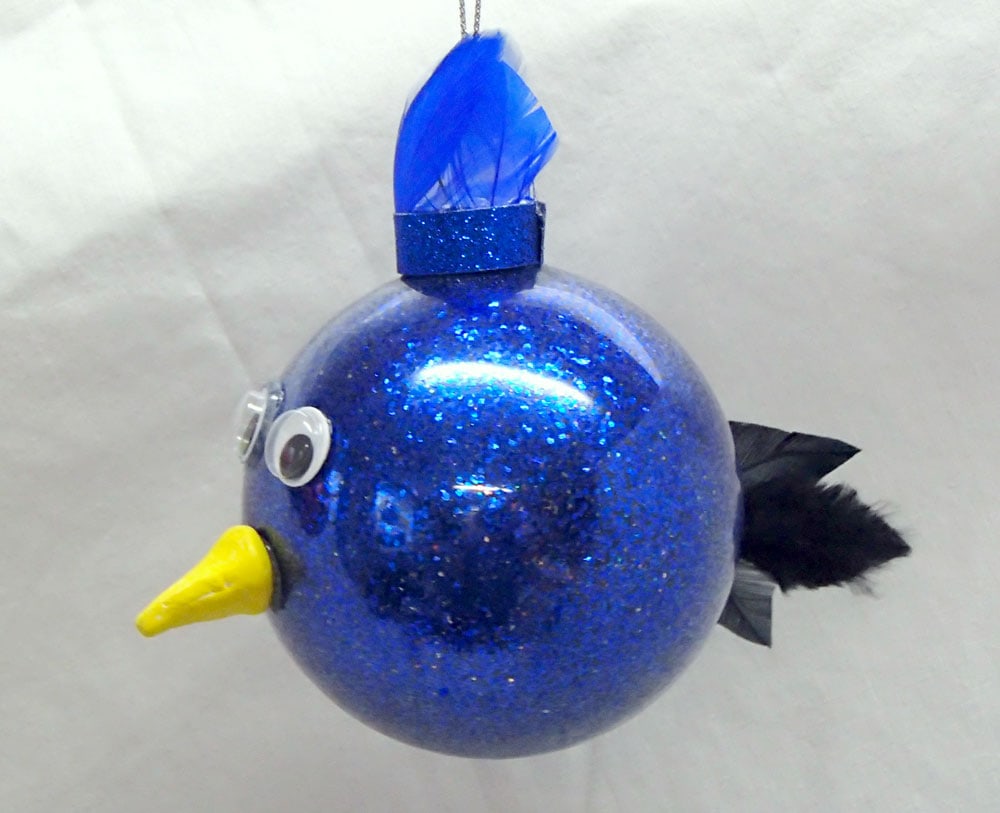 Take the clay parts and place them on the ornament WHILE SOFT. You want to form the clay to the round shape of the ornament for a tight fit. Let the clay dry, then glue to the ornament.
Trim three feathers that match your bird color to size. Place on the stem and wrap with the ribbon. Glue or tape into place. We had glitter ribbon leftover from the Minecraft ornaments so we didn't need to glue!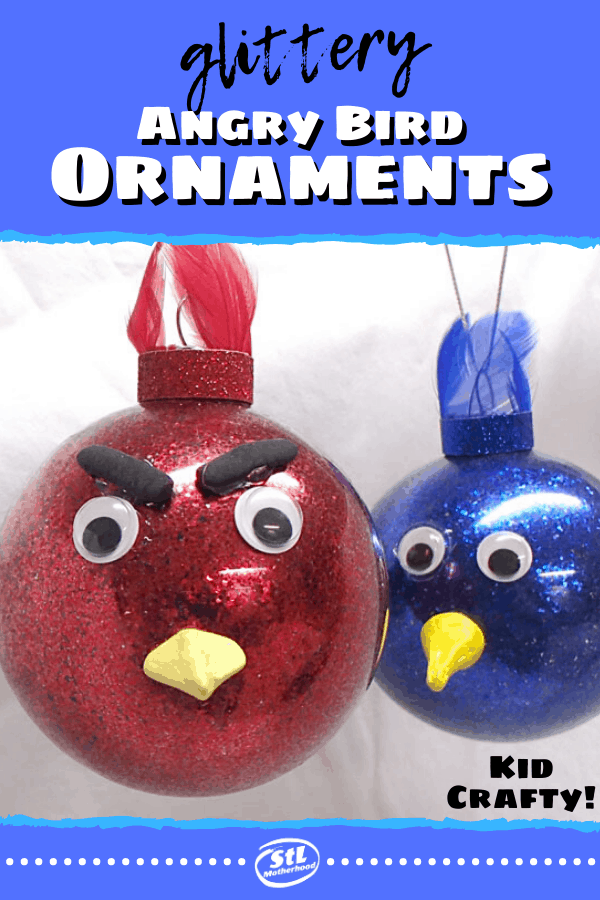 If you want to get fancy, you could paint the chest of the red bird with Mod Podge and gold glitter. But I was trying to keep this simple for Mitch, and I think you can tell what these birds are supposed to be! What do you think?