A while back I saw one of those silly Facebook videos showing how easy it is to make your own "shrink charms" with recycled plastic from food packaging. I became immediately nostalgic for my childhood and began hording plastic boxes of all sorts. We've been going through berries by the bushel–and grocery store sushi–and I could see dozens of "free" shrinky not-dinks for Mitch's crafting needs. 
I actually HAVE real Shrinky Dink material in my craft closet–you can still get it at Michaels, Art Mart and sometimes Target if you're lucky. When I was a kid you could find Shrinky Dinks in any toy aisle, but now it's kinda of hard to find. And sometimes you can only find the silly pre-printed Shrinky Dinks...boring! I wondered if recycled plastic was really as good as the original, so I did a test.
Testing Recycled Plastic for Shrinky-ness
As you can see above, one of the plastic lids I drew on didn't flatten out and the other turned white on one side and barely shrunk. This needed a more scientific approach, so I enlisted Mitch to help me out. We made a couple Pokeballs, all traced from one of Mitch's drawing. One on recycled plastic, one on real Shrinky Dink frosted and the last on Shrinky Dink clear plastic. I don't remember what Mitch's codes meant…I'll have to ask him later.
As you can see, it didn't go well. My recycle berry box turned into a milky white scroll. So I asked Google what I was doing wrong.
Not All Plastic Shrinks
It turns out that only ONE KIND of plastic can be used as a Shrinky Dink stand in, and that's plastic stamped with a #6 recycle code. Any other plastic just doesn't work, and some might even be dangerous. Doh! I looked at my plastic stash and only one box was the right kind of plastic. If I hadn't been too tired to make the teenager a sandwich, we would have never gotten this project off the ground!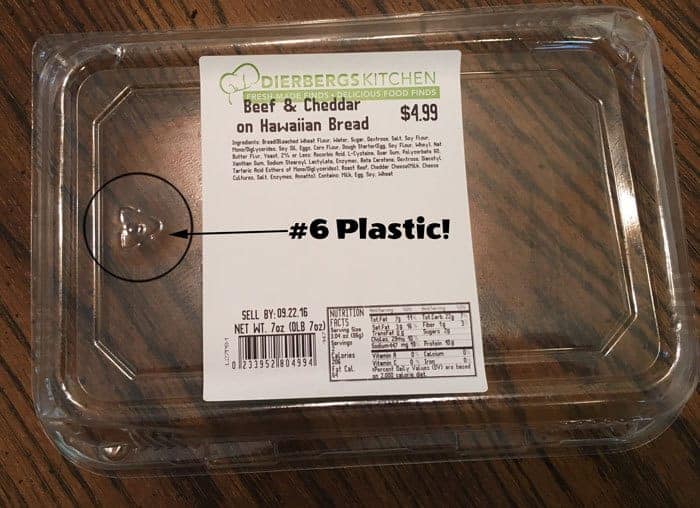 Testing #6 Plastic
I started looking for the magical #6 stamp on things I picked up at the store and found that #6 plastic is not widely used by my family. Dierberg's deli boxes work, but not their sushi. Berry cartons are out. Rotisserie chicken boxes? Those were good…but kinda lumpy. The more I tested, the more I found that recycle plastic doesn't live up to the real thing. It's also worthless if your plan is to save money, because seriously, no one who's watching their budget should be buying tons of deli takeout. 
The charms below are all made on #6 plastic and they turned out a little warped. You can really see it in my logo–which I traced! Compare it to the logo Photoshopped on the picture in the bottom corner. It's just not right. The heart and the Arch are cute, but still off.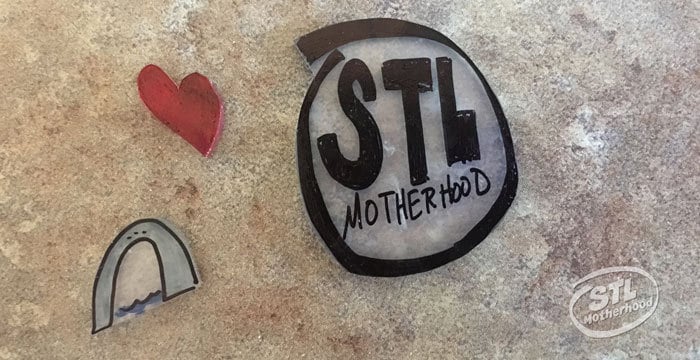 My final test was on poor little Pikachu. I grabbed an image from the 'net and traced him on both real Shrinky Dink material and a rotisserie chicken lid using the same Sharpie Markers and baking at 325 per the Shrinky Dink directions. Someone online said that lumpy plastic works great because it all melts smooth. Huh.

As you can see, not only did the recycled plastic shrink unevenly (Pikachu on the left is a little skewed)…he's also bigger and etched with rotisserie chicken warnings. Because the warning was stamped into the plastic, my marker was not able to color inside every little groove…giving Pikachu a funky texture. 
Recycle Plastic belongs in the Recycle Bin
If you happen to buy a lot of things wrapped in #6 plastic, and you hate to just toss that container…give this a try. Use permanent markers and heat your oven to 325. It's a fun experiment, but I can't guarantee that you'll like the results. If you're here in St. Louis, head over to Michaels and look for real Shrinky Dink plastic. They keep it with the scrapbook supplies.