Are the kids in their jammies? Got your popcorn and lawn chair? Great! You're ready for the Skyview Drive-In Theater, the last drive in the St. Louis metro area.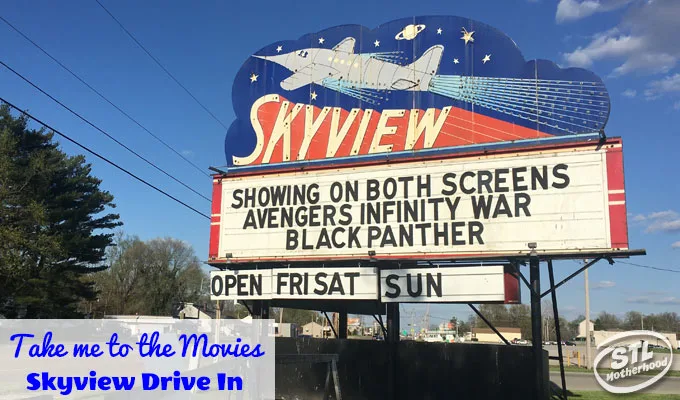 —Now celebrating 70 years!—
The Skyview is located in Belleville, IL, just a short hop for most St. Louis families. Is the drive worth it? You bet! The Skyview offers a great family deal (a family of six could get in for $22), plenty of summer blockbusters and a crystal clear digital screen. All you have to bring is the sound–the movie's soundtrack is broadcast on a local FM signal–so bring your boombox. And remember–it's always a double feature!
Of course, if you're a traditionalist you can watch the movie in your car and listen to the sound over your car stereo. But most people tailgate the Skyview with lawn chairs and picnic dinners. I've even seen families pull up in a truck with an air mattress in the back for the kiddos!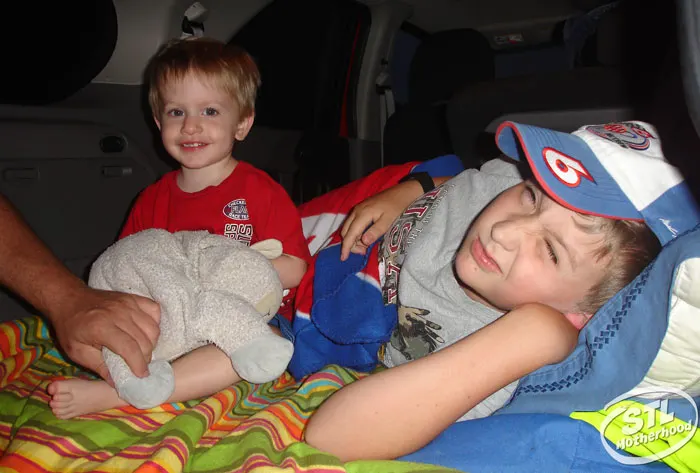 We have an SUV, so we fold down the back seats and pad the back with pillows and blankets. When the kids were little, they'd both snuggle down the night and watch the movies. The hubs and would set up lawn chairs and a cooler at the tailgate and settle in for a nice double feature. Now that my oldest is a teen, he joins us on the lawn chairs.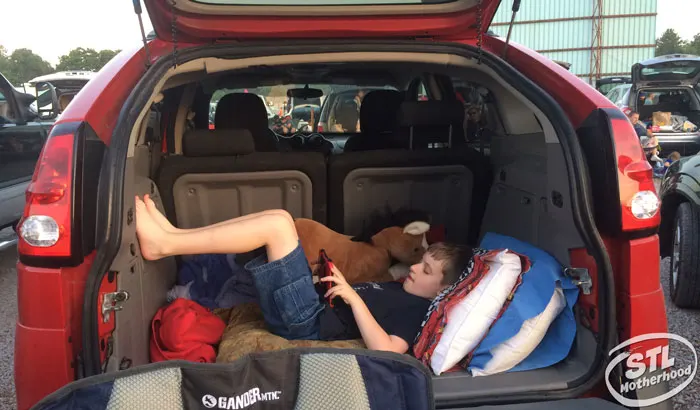 Tips for visiting the Skyview:
1) Tickets are $11 per person over 12. You can bring two FREE kids for each adult.
2) The ticket window opens at 7pm on summer weekends, but people start lining up at 6:30pm. Come early to get a good spot.
3) Movies start after dark, which is around 8:45pm on a summer night. Plan for things to do between arrival and movie time. Most people eat a picnic (or carry out pizza!) dinner while they wait. There is a playground, but it's designed for bigger kids and is from the '80s. Plan accordingly. Portable games are a good idea here. I've also seen kids throwing a football in the back of the lot.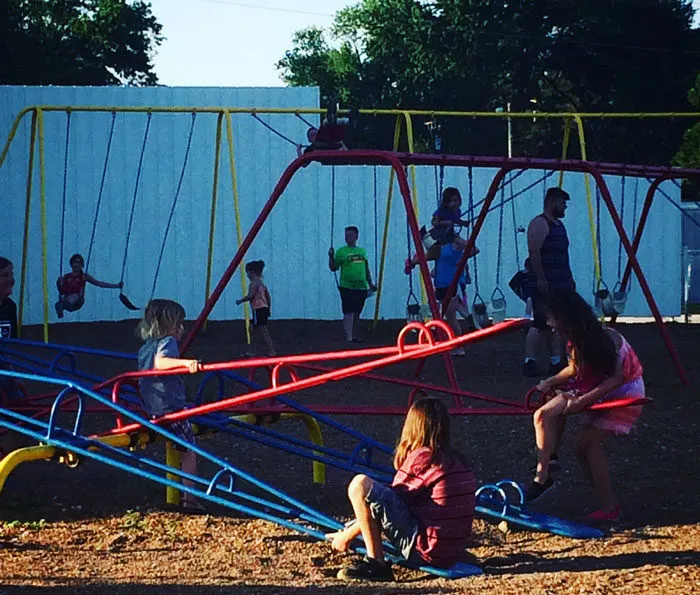 4) If you bring little ones, plan for a nap zone. You won't leave until well after midnight.
5) The Skyview allows coolers and you can bring your own food. Most families pack dinner. You can bring alcohol if you want a glass of wine or beer with your movie. (Just be responsible! You're in your car after all.)
6) No fires. Don't even think about BBQing at your movie tailgate. (Think about it, your smoke would ruin the picture for everyone.)
7) The Skyview added digital projectors in 2013. This means the picture is AWESOME and they can keep getting the latest releases.
8) Bring a portable stereo–you have to provide your own sound. Don't fret–the audience gets a cool surround sound effect from a couple hundred boomboxes playing at once.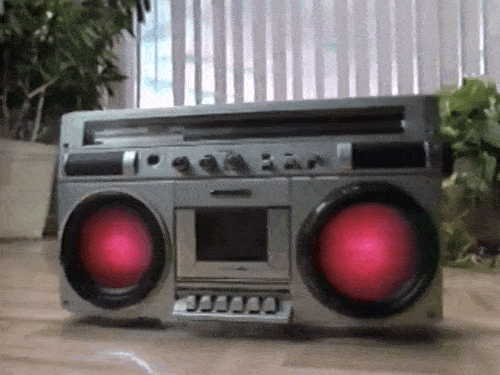 9) The Skyview has a concession stand with all the regular theater offerings. There is also a Schnucks next door if you forgot anything. You can walk there–don't move your car, or you'll lose your spot!
10) Bring a flashlight and tissue paper. The only bad thing about the Skyview is the restrooms which look to be original. Tissue paper often runs out by the last movie and with everyone trying to use the facilities at once…those dark port-a-potties start looking pretty good.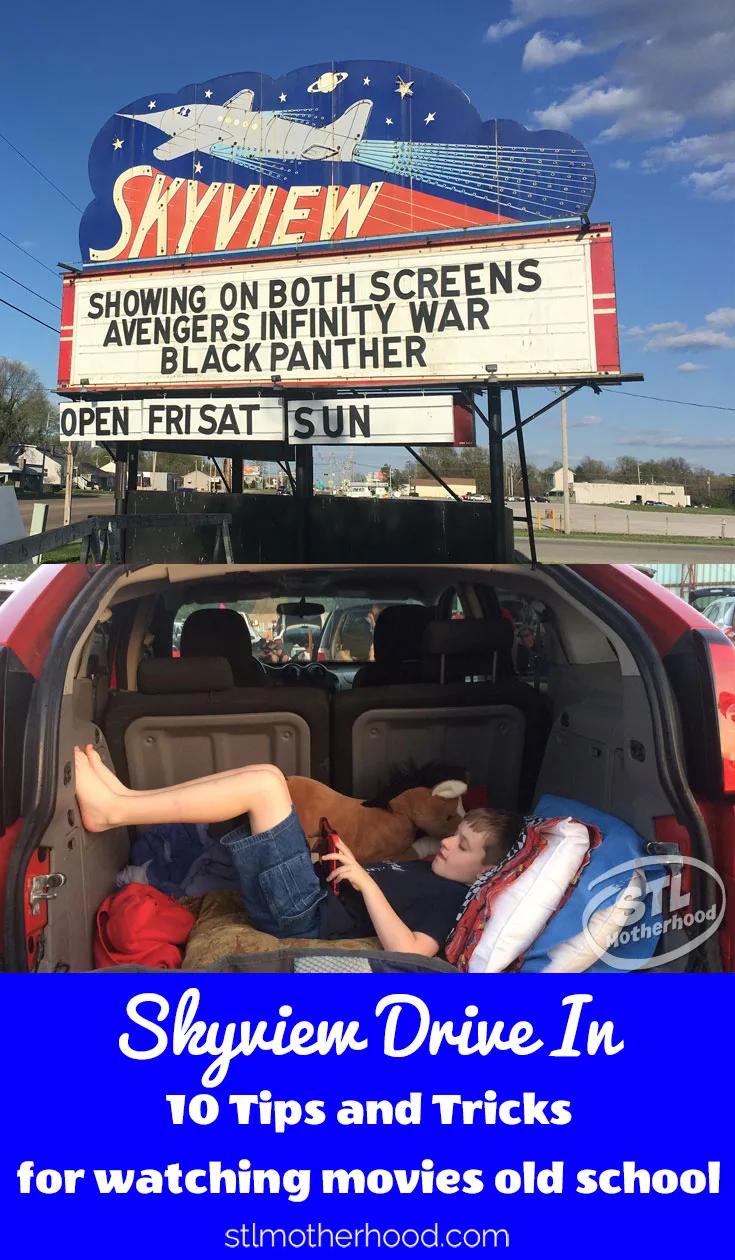 This is part of our Summer Bucket List!
>>> Click here for More Fun Ideas! <<<