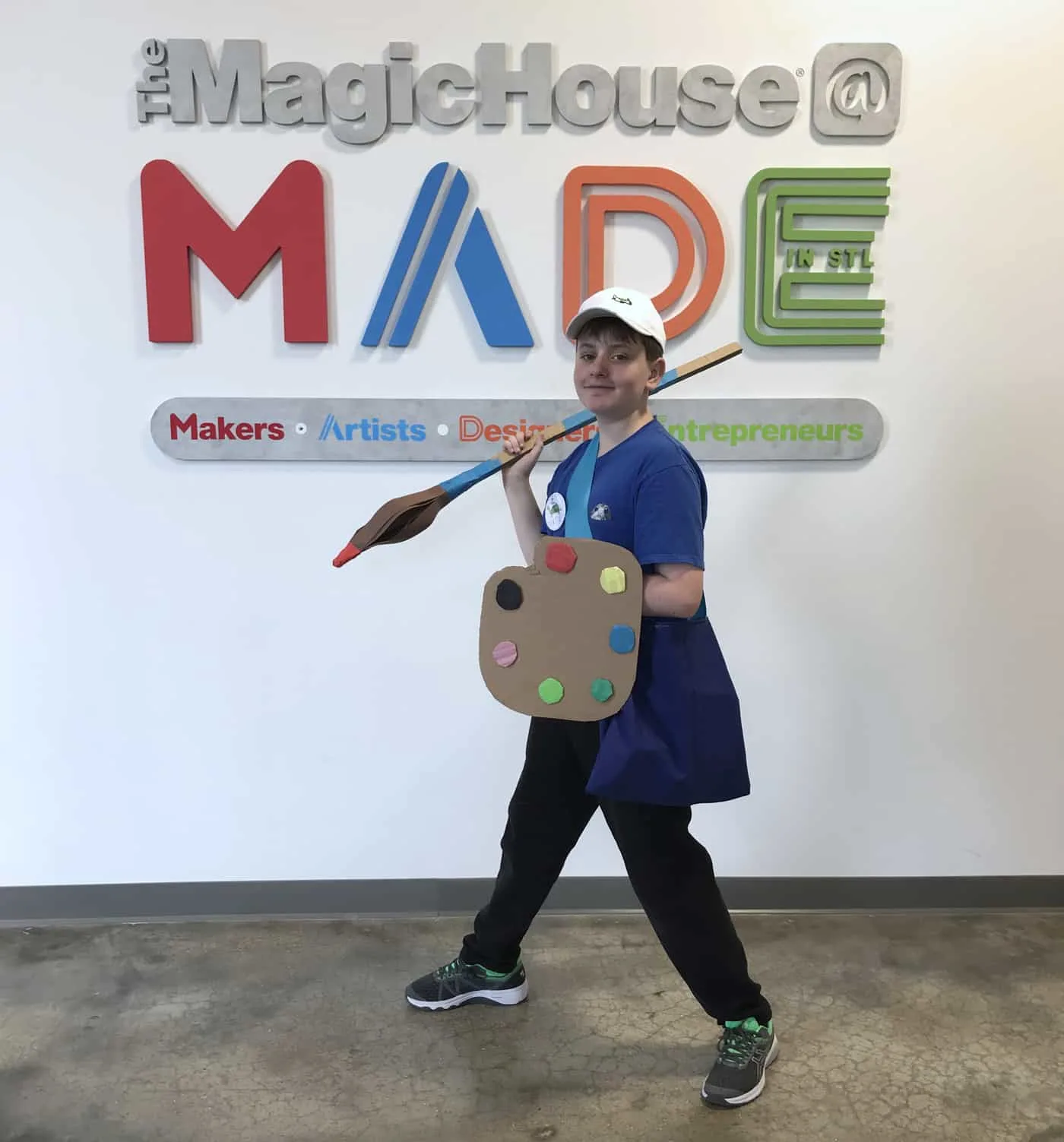 MADE For Kids is the Magic House's cool "maker space" for school aged kids located in St. Louis City. It's a permanent satellite location, just blocks from Forest Park on Delmar.
Mitch is beyond ecstatic to explore @MADE–he LOVES the Magic House, but now that he's 12 he's really starting to outgrow most of it. Sure, there's still plenty of fun for older kids located in the STEAM area and the science experiments scattered around the House…. but what tween wants to wade through toddlers to get to the good stuff?
What's @MADE??
First, lemme explain the name. It's officially called "The Magic House @MADE" because it's located within MADE STL (yes, all caps). MADE STL is a premiere makerspace for grownups, and it stands for Makers, Artist, Designers & Entrepreneurs. Clever, huh?
MADE STL is a place for creatives to borrow expensive machinery to make all kinds of projects. They have things to make wood working projects, welding equipment, laser cutters, screen printing equipment, sewing machines…it's a really impressive list. You have to join MADE STL as a member to access the equipment–kinda like a gym membership for tools! Naturally, they offer all kinds of training too.
You have to be over 14 to join MADE STL (and over 18 to use a lot of the more serious tools) but they really wanted to get kids excited about making stuff. So naturally they reached out to the Magic House!
The kid friendly maker space is located on the second floor of MADE STL. It's a collaboration between MADE STL, the Cortex Innovation Community and the Magic House.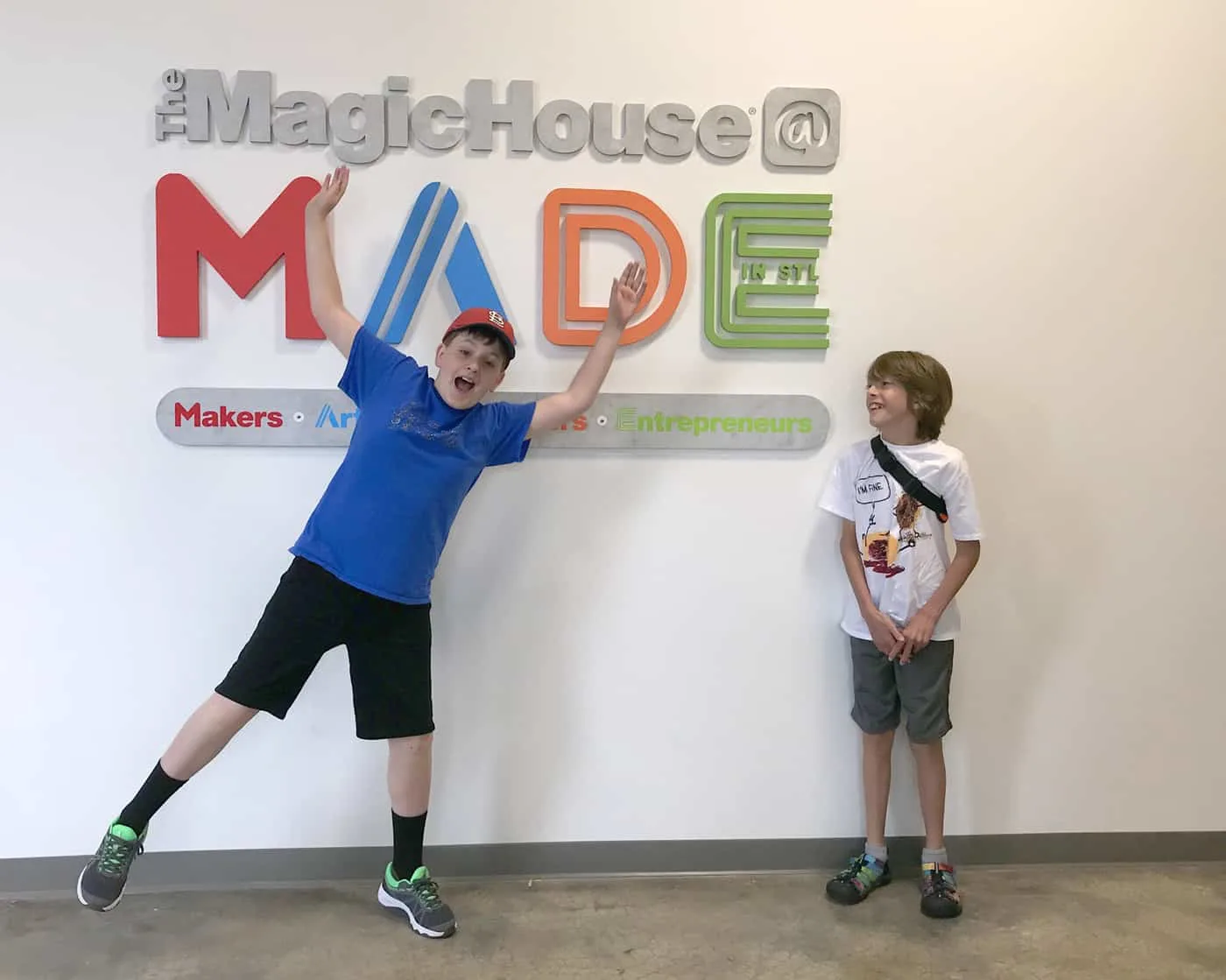 The Magic House @MADE
@MADE is place for kids to become mini makers. The open studio is separated into areas for Makers, Artists, Designers and Entrepreneurs.
Maker Workshop
A good chunk of the Magic House space is dedicated to making all kinds of stuff! You can work with paper and cardboard, hot glue, fabric and sewing machines, a CriCut and a laser cutter for engraving. There's plenty of staff on hand to help kids learn how to use the machinery. (And some of the complex equipment is only used with a staff member.)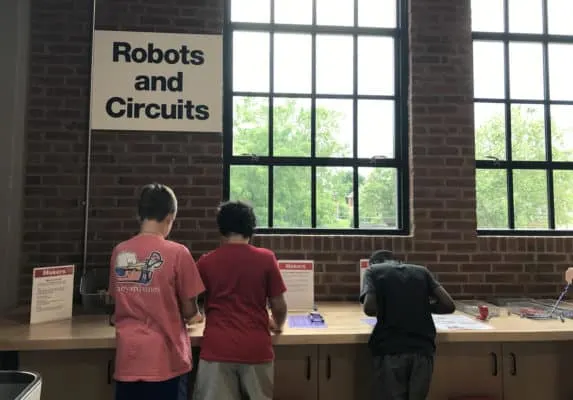 You'll recognize a few popular things from the Magic House's maker workshop. The a robotics corner has Snap Circuits and robotic cubes –these should be better maintained since there's a high staff to kid ratio @MADE.
Artist Area
The Artist Studio is were kids can make all kinds of art! They can work with clay, paper, paint and even learn how to screen print. A big highlight are two digital easels like giant iPads where you can draw with your fingers, dry paint brushes…or make your own brush like my kid did! Go ahead and click the video and watch a quick demo from Mitch.
Design Lab
The Design Lab covers a lot of ground. On the one hand, you can design a bridge from popsicle sticks for a little wooden car…and on the other you can make a video game character! They also have two 3D printers for kids to use (with staff help).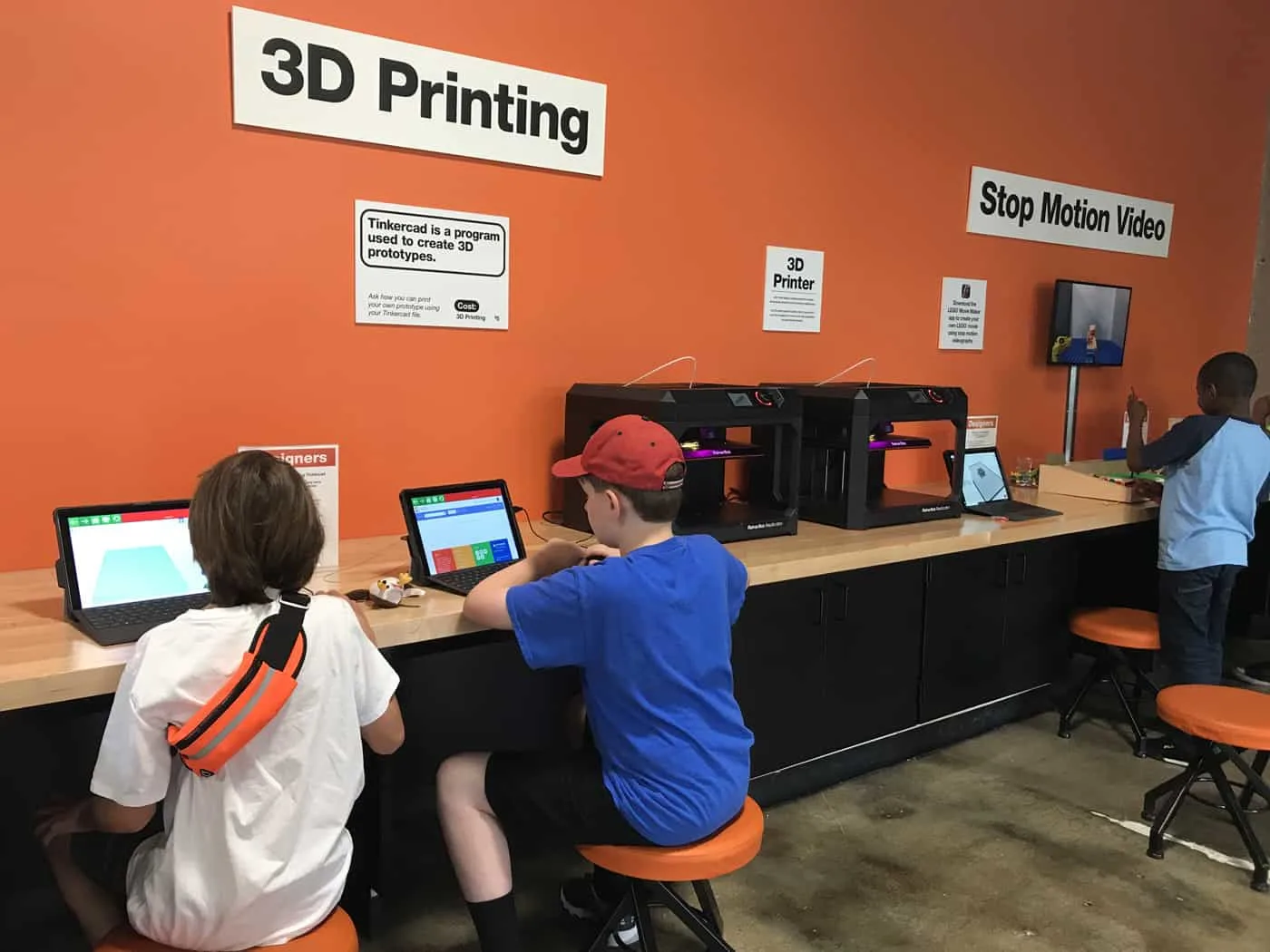 The Design Lab area has a few things copied from the Magic House, like an area to make and test both parachutes and rockets. There's also a button making machine, but instead of having your photo turned into a button–kids can draw their own!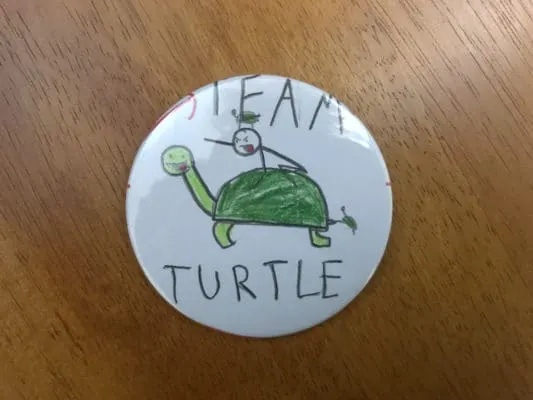 The Design Studio uses Tinker Cad for their 3D printer and a LEGO setup for trying out stop motion videos–both use free programs anyone can access at home.
They use Bloxels to introduce game design. Mitch says the @MADE version limits kids to making a character, then playing on a premade video game. You can also download Bloxels at home for free, or buy a game design board to get more creative.
Mitch was really excited to finally have access to a 3D printer. He's learned how to use Tinker Cad at school, but was only allowed to print things ONCE.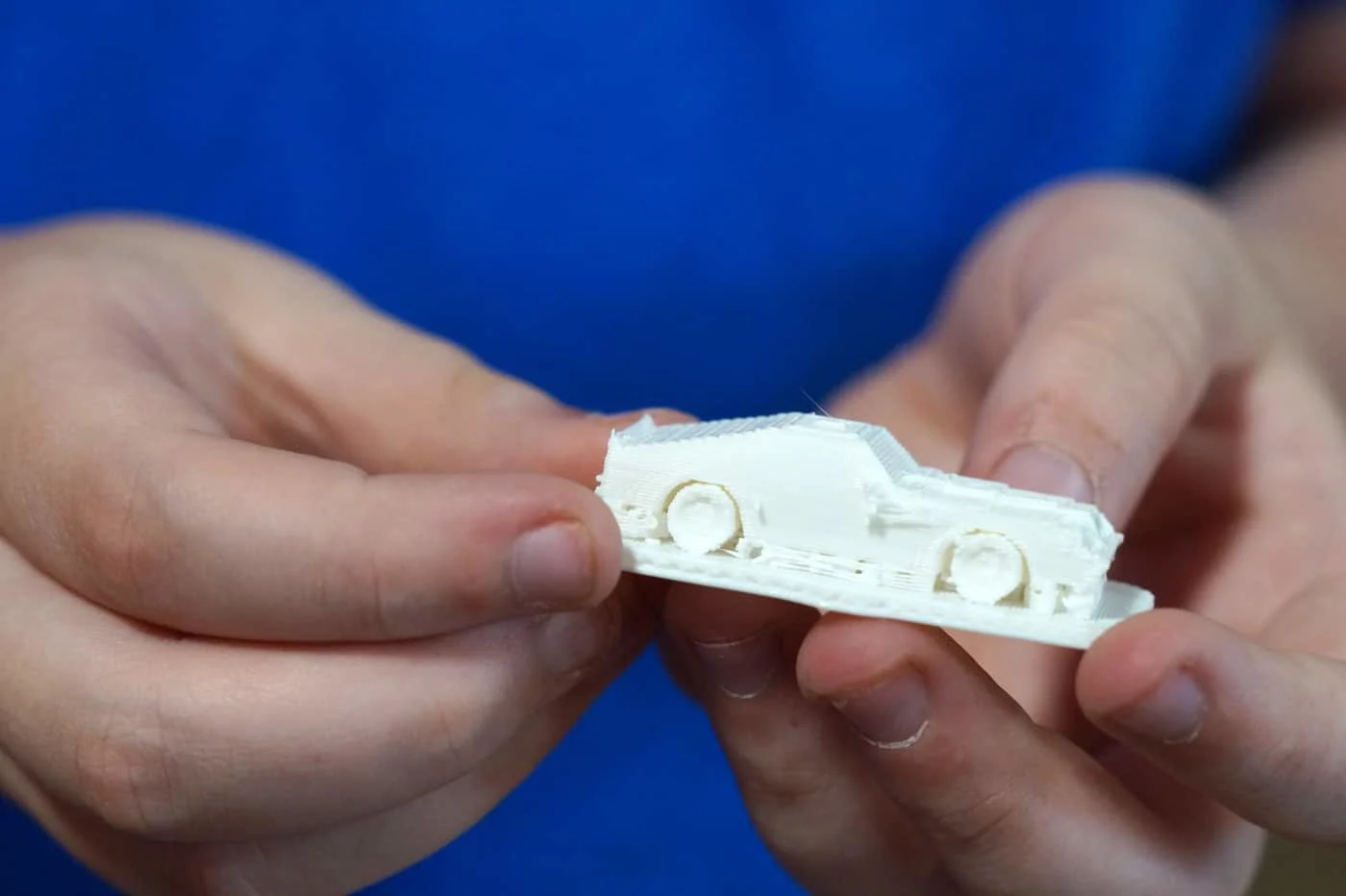 Entrepreneur Market
Kids can learn how to turn their new maker skills into a small business with the help of the Magic House. They have a neat little program to learn about entrepreneurship–with inspiration scattered around the whole studio.
They even include a small light box, so kids can take a very professional photo of small things they've made on their visit!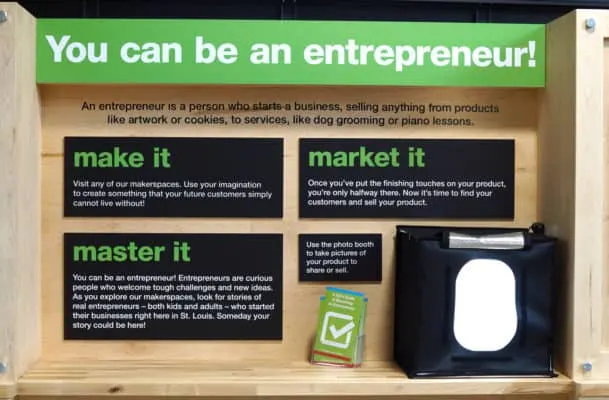 Admission Price and Fees
It's only $5 to play at The Magic House @MADE, which is great news! Admission is included in the Family Plus level of membership, or you can just become a member @MADE for $50.
Bonus: Free Fridays at the Magic House apply to BOTH locations!
You can do quite a lot with just your admission fees, but if your kid is seriously into Making, you'll need to buy a few things.
For example, there's no extra fee to screen print on PAPER, but if you want to make a t-shirt or canvas tote, you'll need to buy one at the desk. The same goes for the laser cutter–metal tags are extra. Clay? Play all you want…wanna keep it? $5 to fire it and take it home. You can play with Tinker Cad all day for free, but if you want to take your design home, it's $5 to print it.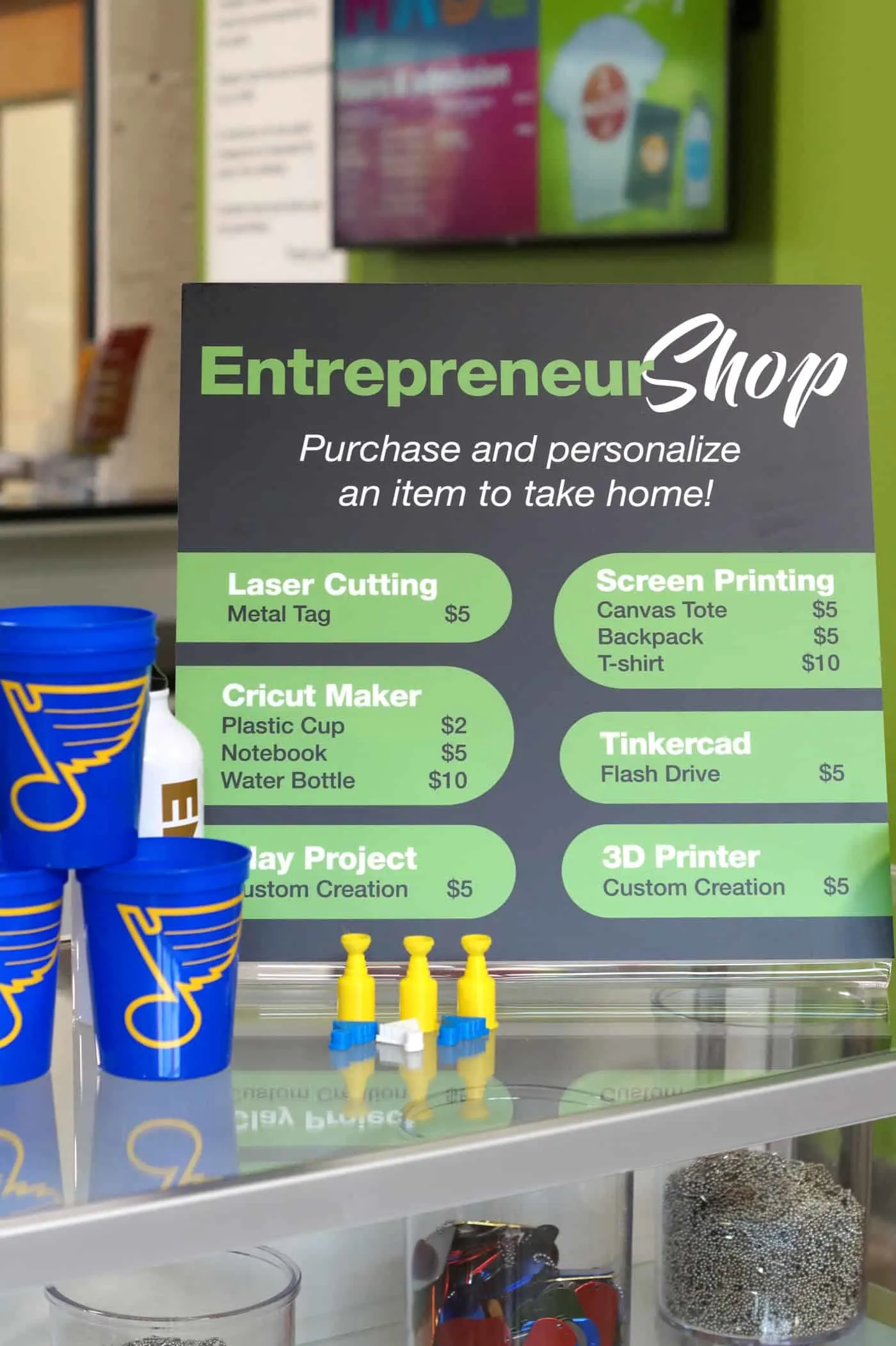 Since admission is so cheap–it's less that half the cost of visiting the Kirkwood mothership–I don't mind paying extra for Mitch's creations. Which are pretty much going to be a bunch 3D cars…
@MADE Hours & Location
@MADE keeps the same hours as the Kirkwood location.
Summer Hours:
Monday through Thursday: 9:30 am to 5:30 pm
Friday: 9:30 am to 8:00 pm
Saturday: 9:30 am to 5:30 pm
Sunday: 11:00 am to 5:30 pm
School Year Hours:
Tuesday through Thursday: 11:00 pm to 5:30 pm
Friday: 11:00 pm to 8:00 pm
Saturday: 9:30 am to 5:30 pm
Sunday: 11:00 am to 5:30 pm
Address:
5127 Delmar Blvd. St. Louis, MO 63108
Phone Number:
314-328-0561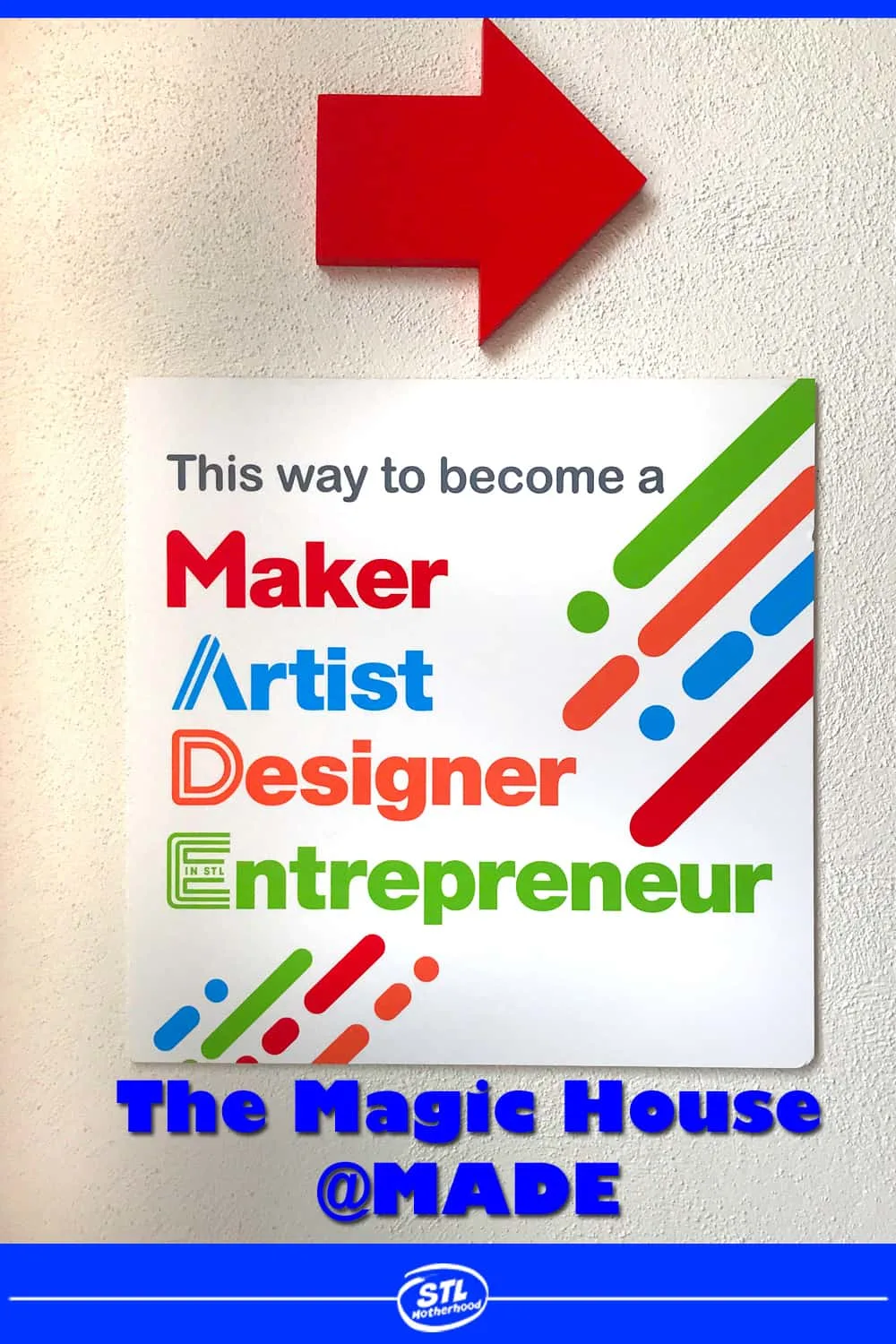 A note on Ages to Play
@MADE was designed with school aged kids from 6 to 14 in mind. Younger kids are allowed of course, but most of the crafting will be WAY over their abilities. Admission applies to everyone over the age of 1. This is not a place for toddlers, but if you have a little sibling that needs to come along for the ride, they won't be turned away….just keep an eye on them!